Lying in the balmy waters of the Gulf of Thailand, Phu Quoc is Vietnam's largest island and home to some of the country's best beaches. A white halo of sand encompasses this green, forested isle, 45km off Vietnam's southwestern-most coast. On the cusp of major development, now is the time to visit Phu Quoc's beaches, before construction of big resorts, casinos and other facilities for mass tourism rob them of their present tranquility and honest natural beauty.
Located in the south west of Vietnam, Phu Quoc island together with other surrounding islets founded Phu Quoc archipelago (which is now Phu Quoc district in Kien Giang province).
45km away from Ha Tien and 120km far from Rach Gia township, Phu Quoc owns an area of 573km2 and the population of more than 120,000 ( 2014 years) . The island is 50km long north to south and its largest part is 25km wide. The island is built up with a roughly shape and a mountainous ridge of 99 peaks.
The whole district consists of 8 communes and 2 towns, which are: Ham Ninh commune, Duong To, Cua Can, Cua Duong, Hon Thom, Bai Thom, Ganh Dau, Tho Chu (120km away from center Phu Quoc), An Thoi and Duong Dong township. Duong Dong is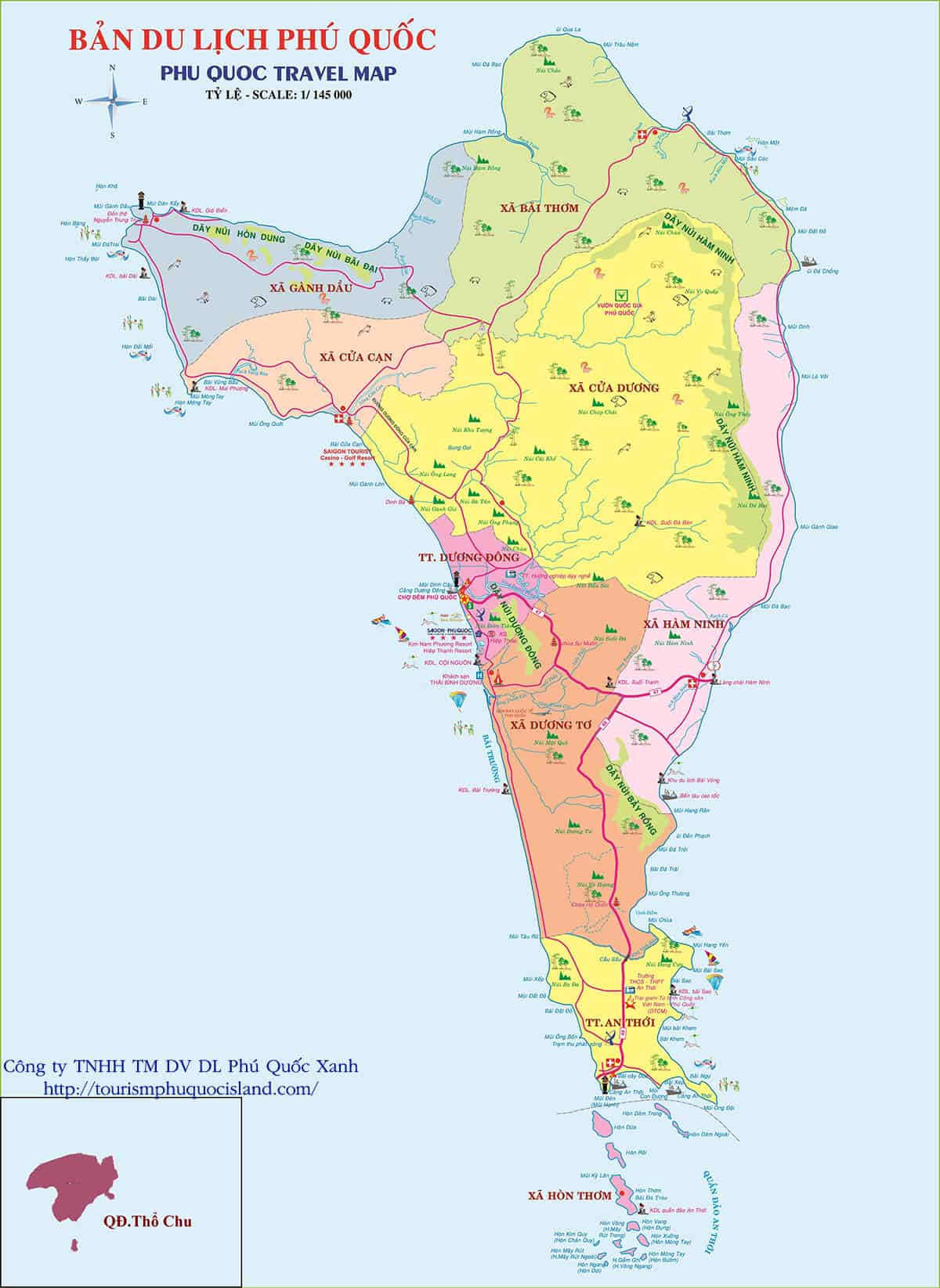 Nature has presented Phu Quoc an astonishing affluence featuring seas, lakes rivers, mountains, deltas,  and jungles – home for lots of precious animals. With a distinctive hospitality, creative brains and hands of diligence, Phu Quoc residents have invented the strong flavor fish source and have grown acres of pepper gardens.
The history of discovering and developing in Phu Quoc started earlier than in other places in the Mekong Delta. In 1708, Mac Cuu merged Ha Tien (also consisted of Phu Quoc at that time) into Dang Trong (the southern region). Since then, Phu Quoc has been known as a part of Vietnam. In 2008, Phu Quoc reached the age of 300 years old.
In Phu Quoc, there are many vestiges of king Nguyen Anh (Gia Long) during his wandering time. The island was also an army base of patriot Nguyen Trung Truc to fight against French colonialists. Cay Dua prison in Phu Quoc is a famous place which cites lots of combat achievements of Vietnamese soldiers in the past.
Phu Quoc is its untouched coastline featuring several heavenly beaches. They have yet to be explored to their full ability, but this fact might be actually positive as it gives the shores a romantic beauty that you can find in nowhere else in the world.

Local specialties
Sardine is sliced into thin layers, served raw with vegetables and a special kind of sauce made from peanuts. The taste might be too strong for first-timers, as the sauce is imbued with original fish sauce. However, eventually, the sweetness of the sardine will emerge and moderate this saltiness. Beside, the peanuts give the dish an inviting creaminess that compensates for the plainness of veggies. All in all, these components make a perfect combination that may stun you and keeps you yearning for more.
A hard-to-get sea creature that live only in deep water, thorn balls have become one of the most precious ingredient in Phú Quốc culinary culture. Thorn balls are renowned for the natural creamy texture and fattiness that overshadow its ghastly appearance. The locals either make porridge from it or have it uncooked with a little wasabi. This is considered a luxurious treat that you should not miss.
In cold rainy days, it is best you have dinner with a hot and delicious bowl of mackerel noodle. Mackerels are filleted, the remaining bones used to make the broth and the noodles homemade by hand. Simplistic as it may seems, the dish requires a high level of seasoning to achieve the delicate and yet, unforgettable flavor. Tràm Mushroom
In the rainy seasons, the timbers' barks will fall off and feed the soil, nurturing, at the same time, these precious mushrooms that have become a widely used ingredient in Phú Quốc. The mushroom is best served in form of soup, as its sweetness will be emphasized and thus compliment other toppings. As it is hot and nutritious, the soup is a helpful dose of tonic for the sick and for those who are fatigued after long trips.
How to get there:
Vietjet Air and Vietnam Airlines have daily flights from Hanoi and Ho Chi Minh City to Phu Quoc and back. Flight hour is between 50 and 60 minutes – one way ticket costs from $60-100.
Vietnam Airlines just opened a direct route from Singapore to Phu Quoc to make it more accessible to Singaporeans and expats living in Singapore to have a beach holiday.
Below are the common means of getting around Phu Quoc:
Boat
Boat is a good means of transportation to traveling around Phu Quoc Islands for sight-seeing and especially, going fishing. For a group from 1-4 people, boat might be for renting at $80/boat/day. Any extra person would be charge $15 per person.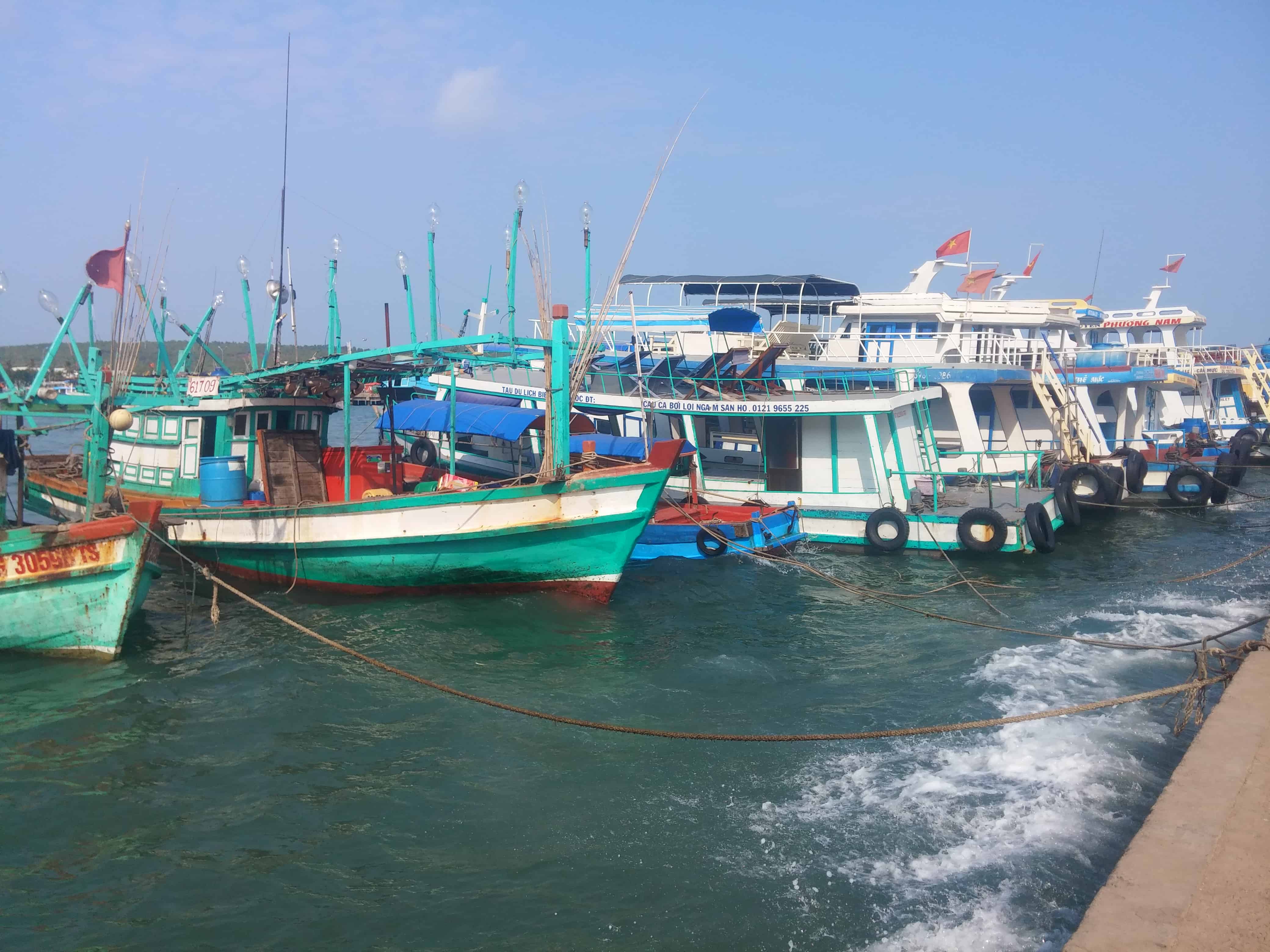 Car rental
Car rental is offered at most travel agencies. They have many package options for you to choose from. Depending upon the number of seats, the price may vary from $100 (7 seat car)-$300 (46 seat car) for a 3 day package. The package is an economical and convenient way enabling visitors more flexibility in planning their itinerary for their own preferences.
If you just need a car for a day, price should be about $35/day for a 7 seat-car.
Cycling
Cycling rental is available at the hotel. Contact with the receptionist for more detailed information. Price is often calculated on hourly basis.
Motorbike
Motorbike rental is often offered at most hotel. You just need to consult with the receptionist to rent a motorbike. Price should not exceed $6-$8 per day depending upon the kind of motorbike (gas excluded)
Taxi
Taxi might be the most convenient way for people who want to get to the exact place they are heading to. The taxi fare is about 60-70 cents per kilometer. Sasco and Mai Linh Taxi are two reliable carrier.
Walking
It might be a good idea to do some walking around Duong Dong Market and enjoy the daily life of local people here. Just stop by a food court or a shop that you find interesting so much easier than traveling by a car or a motorbike!
Hotel on Phu Quoc island
Since Phu Quoc does not bear with it too much hotel and the 5-star and 1-star categories are missing, the definition of midrange hotels slightly changes. Now midrange hotels simply mean 3-star hotels. There are not too much 3-star places in Phu Quoc, with around 10 hotels, but the quality of them are still good enough to convince guests to choose their names. The most noted ones are Tropicana resorts at Duong Dong Town, Thien Hai Son resorts at 68 Tran Hung Dao street (the main road of the island) , Thien Thanh Resort  and Kim Hoa resort at Duong To commune. Those hotels, of course can not match the 4-stars resorts listed above in term of quality level and building size, but they still hold their own aces.
The room accommodations here are excellent if compared with the range of price, with elegant design and decent furniture, plus special facilities like security locks and minibar in the refrigerator. Moreover, those hotels provide guests the best foods/drinks available with very reasonable price in such large variety, from European dishes to Asian foods, and traditional Vietnamese cuisine also. In addition, the staffs here always keep the smile on their faces to show their friendly attitude and high rate of hospitality. This wise activity draws a very beautiful image of the hotels in customers' minds, and increase the percentage of their second visits.
With long beautiful beaches, Phu Quoc offers a wide range of seafood which is not only fresh but also delicious in taste. If you are a big fan of seafood, you should definitely savor all kinds of seafood sold here. Being caught directly from the sea and processed immediately, shrimps, fish and other shell species are a real delight to many foreign visitors when they visit the island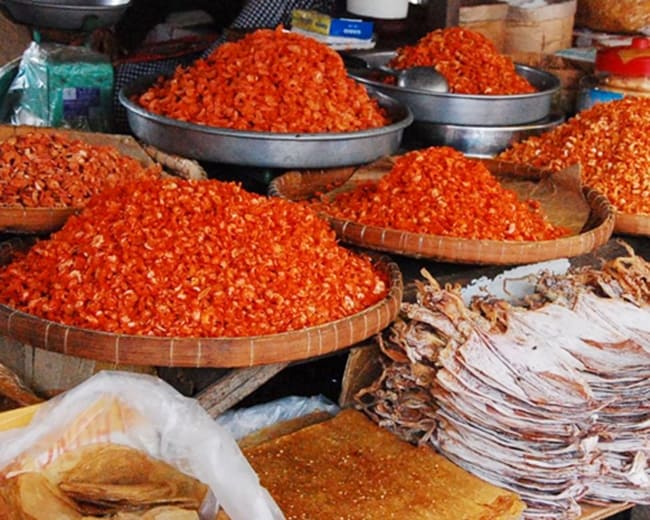 Read more Phu Quoc info :