Phu Quoc has come alive with places offering a variety of tours, so we've summarised some of the main tour destinations on offer below along with some of the tours operators, travel agents and places that offer island tours. Remember, we're completely independent and are not associated with any of the companies mentioned, they might however be good starting point for being guided around the island. Recommendations and visitors feedback is always welcome, so we can promote businesses that look after our island visitors and our island environment.
Main tour destinations & sights
If you're not the adventurous type who wants to ride around on a motorbike, an organised tour is an ideal way to see the island, with transport and a guide on hand to show you the way to the main attractions. There's an incredible number of tours around, so here's a quick overview of the main places visited on most of the full day and half day tours that are offered:
North Phu Quoc:
all tours to do the northern loop visiting a pepper garden, driving through the National Park area, visiting the village of Ganh Dau with the nearby view of Cambodia, dropping in to see Cau Temple. Some tours may also the local winery.

South Phu Quoc:
There's a variety of southern island tours, though they tend to visit the Pearl Farm, Coconut Prison, An Thoi and the market, Sao Beach, Ham Ninh Village and then a mixture of the following including a pepper garden, a fish sauce factory, Cau Temple and the Phu Quoc Dog Breeding farm. Some full days tours also visit Sao Beach & Ham Ninh Village.
City Tour:
mainly visits Duong Dong Local Market, a Fish Sauce Factory, Cau Temple, and the Pearl farm.
An Thoi Islands: There's a number of tours on offer that visit the islands in the archipelago along with either fishing and snorkelling. Some tours may also include a visit to Sao beach.
National Park Trekking: all include a trip to the national park with different trekking options, some with easy walking tracks, other tours offer more challenging trekking.
Sunset tours and Night Squid Fishing: Many operators offer this popular tour that runs between 2 to 4 hours and might include a sunset meal and fishing for squid.
Snorkeling in the North: spend time swimming and snorkeling and sometimes fishing around some of the islands in the north. Some tours also visit Ganh Dau Beach to see Cambodia, and along the way visit a pepper farm and the National park.
Scuba Diving: not really a tour, however a great day out. See our Diving page for more information requiring Scuba Diving or learning to dive while visiting Phu Quoc Island.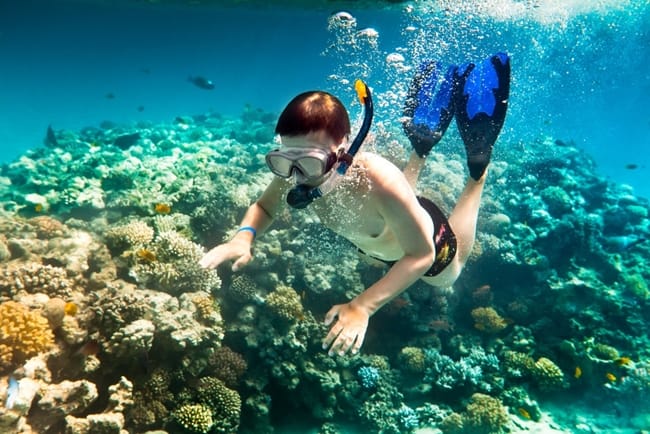 Tour operators & travel agents
There's a host of places offering Phu Quoc Island tours. Many of the larger hotels also offer similar tour packages as well. It's worthwhile shopping around if you're on a budget, as prices do vary depending on the number of sights visited and the quality of the tour.
Here's a brief summary of some of the added extras that the Tours on Phu Quoc Island have to offer:
Full Day versus Half Day
Full Day tours
Offer good value and a chance to see many of the sights on the island. Multiple day tours are also possible with some tour operators.
Some tours include Lunch for free if your on a boat or small island where there are no restaurants. If visiting a restaurant you will usually pay and select your own lunch.
Some tours include extra side trips to craft shops, temples, waterfalls and streams.
Half Day tours
Tours usually run for 3 to 5 hours and focus on the main sights. They will include lunch if you're not near a restaurant or town.
Languages: some tour operators offer their services in languages other than English or Vietnamese, however it is worthwhile booking these services in advance.
Snorkelling & Fishing Trips: include all equipment required like snorkel & mask, fishing tackle, etc.
Transportation & Guide: transfers from hotels are sometimes provided and it's good to check what the transport will be like. Most tour operators use medium sized air conditioned buses, and boats variety from local open style local boats for longer trips to smaller boats for shorter trips. Guides all speak reasonable English and some will provide some good information about Phu Quoc.
Bottled Water: some tour operators provide bottled watered during the day, it's worthwhile checking.
Value for money
Prices on all tours vary depending on number of sights visited, quality of tour, added extras, and the largest discounts are available if you're travelling in a herd. Discounts are available for 2 or more people joining a tour, or if you're lucky enough to fill a late spot on the day of a tour, though we do recommend you book your tour at least the day before to ensure a place.
Here's a quick guide to prices for the more popular tours. Note, all prices are per person in US dollars and provide a rough guide to what you could expect to pay. More expensive tours may have more to offer and more places to visit.
Private tours
Some resorts and tour operators can also organise tailor made private tours of Phu Quoc Island. These will generally cost more than the prices quoted, though will allow you more flexibility to visit the places that interest you.
Read more Phu Quoc info :