The most popular and active transport in Phu Quoc is a motorbike. This is an interesting experience to enjoy the sun, the wind, the forest, the sea view and adventure roads. Are you ready to rent a motorbike on Phu Quoc island?
Rent motorbike on Phu Quoc Island is a popular activity for tourists. Its no require bringing licence when a customer wants to rent a motorbike. Its all up to customers to strictly follow the traffic law in Vietnam. In this article, we will introduce all the information customers need when travelling in Phu Quoc on a motorbike.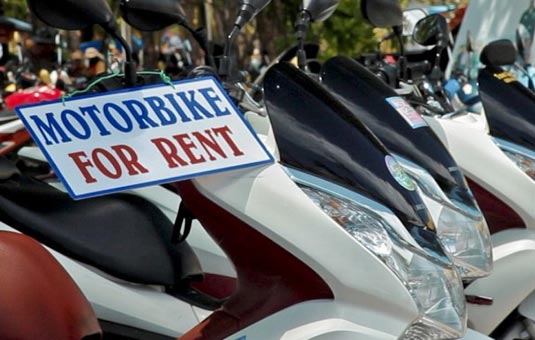 1. Trafic Rules In Vietnam
Always bring your driver's license
Do not drive when drinking
Always wear a helmet to avoid fine.
Call the motorbike shop if the police ask for the registration and ownership of the vehicle you are renting.
Follow the rules, traffic signals and do not drive more than 40 km /h in town.
Do not using the phone when ride motorbike.
2. Tips To Ride In Phu Quoc Vietnam
Drive safely and be aware of the sudden.
Bicycles or motorbikes must go on the right side.
Please wear your helmets as police in Phu Quoc often catch person without a helmet.
Always bring your travel map and have a full tank of gas.
3. The Requirement To Rent A Motorbike On Phu Quoc Island
Customers will need to prepare a copy of the ID card/passport or driver licence.
Book in advance and deposit
The motorbike will get deliver to your place or you can pick up the bike at the bike shop.
4. Price Range
Price to rent a motorbike in Phu Quoc vary from $7-$14 / day depending on the type of motorbike and the condition.
Phu Quoc Green Travel offer a professional motorbike rental service. Contact us today to rent a motorbike on Phu Quoc Island or get all the other service in Phu Quoc.
Remember we have many day tours available, you can find them here on the Phu Quoc 1 day tour page.
Experience To Rent Motorbike On Phu Quoc Island
Update to:
October 16th, 2020
by .
Social Share