Regarded as the pearl island, Phu Quoc is a well-known tourist destination in Vietnam that attracts a large number of visitors. The island is renowned for its pristine sandy beaches, pleasant climate, unspoiled natural surroundings, and an array of tourist attractions.
The Hon Thom cable car is a newly opened tourist attraction in Phu Quoc, Phu Quoc Green Travel can provide you with some details about Hon Thom cable car.
What is Hon Thom cable car ?
Hon Thom is now connected to Phu Quoc island via a recently launched cable car route. The journey is truly awe-inspiring as you glide over the breathtaking turquoise sea and surrounding islands. The Phu Quoc cable car route boasts a world-record length of 8 km, making it the longest uninterrupted three-line cable car ride in the world, as confirmed by the Guinness Book of World Records.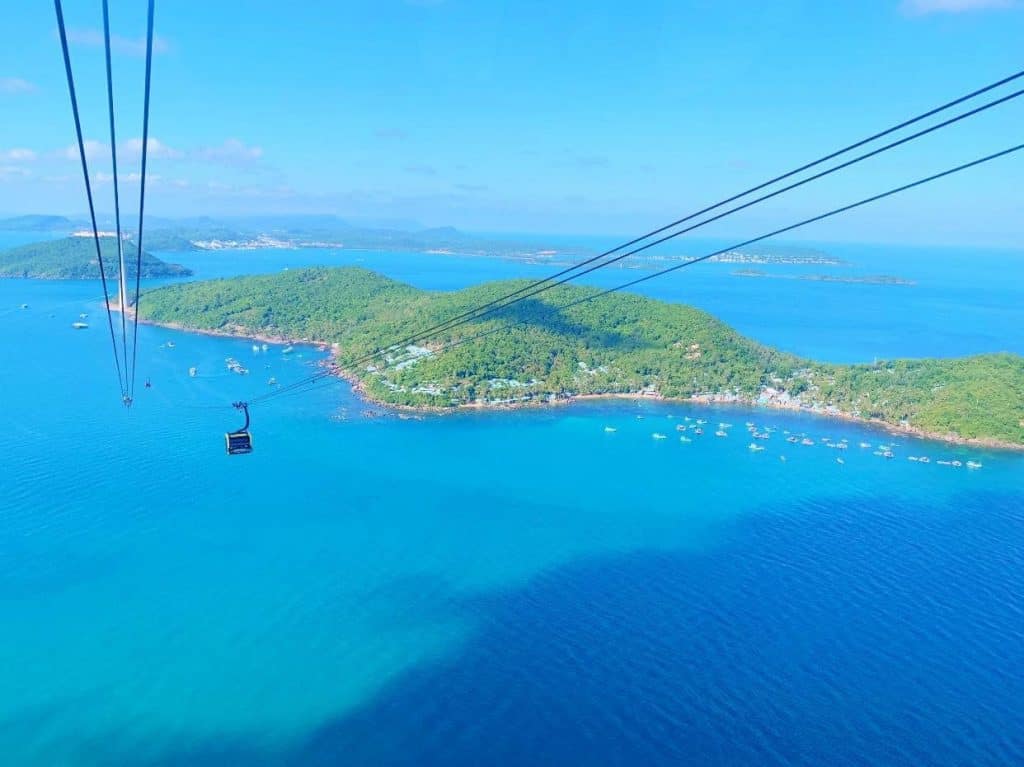 Hon Thom Island can be visited by cable car, which offers tourists an amazing and unforgettable experience. The cable car ride allows for admiring the beauty of Phu Quoc Island from the sky, providing a complete 360-degree view of the sea and sky. The journey to the top is an exciting experience that showcases the natural colors of the South Phu Quoc painting. It is the best and the liveliest way to see this masterpiece.
>>>Read more : Phu Quoc Itinerary 3D2N: Travel Guide & Tips to make your trip awesome
Where is Hon Thom Cable Car ?
The Hon Thom Cable Car's whereabouts can be found by determining its location.
Located in the Kien Giang Province is the district of Phu Quoc, which includes An Thoi Town situated on Red Ground.
What's time open Hon Thom Cable Car
Hon Thom Cable Car operates daily from 8:00 to 17:30, with the exception of a lunch break from 12:00 to 13:30 that lasts for one and a half hours. To avoid any unnecessary waiting, please take note of this schedule.
At 1730, the departure of the final cable car from Hon Thom Station to An Thoi Station takes place.
>>>Read more : Phu Quoc Discover 3 Islands Tour
How to long Phu Quoc Cable Car ?
Holding a Guinness World Record, the Phu Quoc Cable Car journey to Pineapple Island, recognized as the lengthiest non-stop three-rope cable car ride globally, measures precisely 8 kilometers or 4.97 miles.
Plenty of time to enjoy the views and take photos is provided by the 15-minute cable car ride from Phu Quoc to Pineapple Island.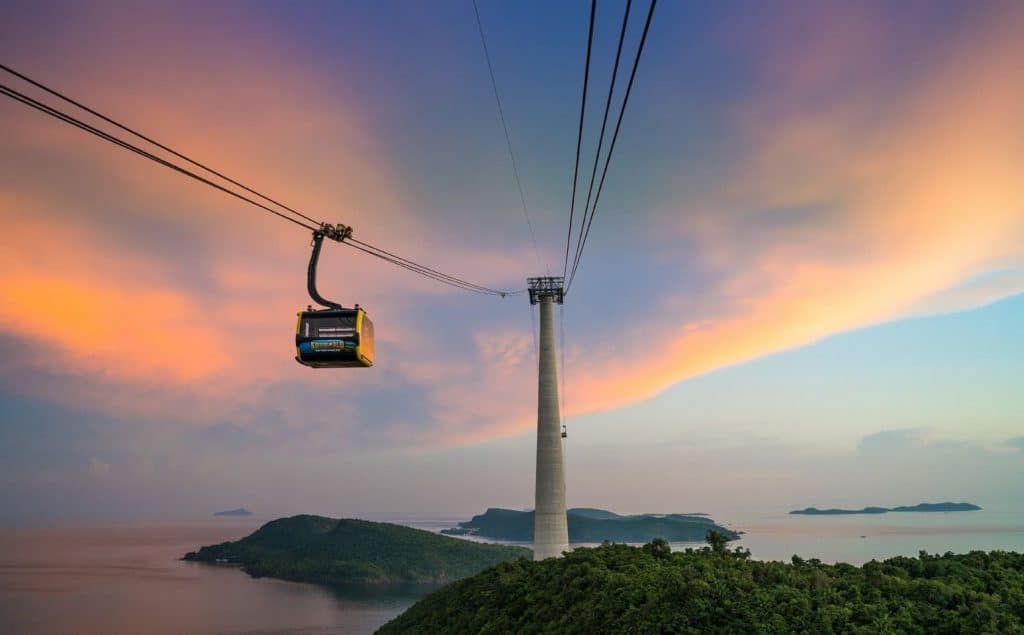 What is the cost of the Hon Thom cable car in Phu Quoc?
Hon Thom Cable car ticket 1 way : adults: 500.000VNĐ, children: 400.000VNĐ.
Hon Thom Cable car ticket 2 way : adults: 600.000VNĐ, children: 450.000VNĐ.
Combo All One 1 way (cable car 1 way + lunch buffet), adults: 670.000VNĐ, children: 420.000VNĐ.
Combo All One 2 ways (cable car 2 ways + lunch buffet), adults: 770.000VNĐ, children: 520.000VNĐ.
Note:
Your ticket will be checked by the cable car both ways, to and from your destination, thus it is important to hold onto it securely.
For safety purposes, it is necessary to have your identification card with you.
Sunworld Hon Thom Nature Park reserves the right to request that individuals purchase another admission ticket if they exceed the specified height. The entrance fee for children is determined by their height.
For safety reasons, the cable car cannot operate in the event of inclement weather.
>>> Booking now : Hon Thom Cable Car Ticket
How to go Hon Thom Cable Car
Located on the southern side of Phu Quoc, right outside An Thoi town, is where the cable car station of An Thoi can be found.
There are several ways to get to the Hon Thom cable car.
Taking a taxi is one way to travel.
A taxi ride is available from any location on Phu Quoc Island to reach the cable car. The expense for a round trip between Duong Dong Town and An Thoi Cable Station by taxi may amount to roughly 600.000 VND. However, opting for a taxi may not be worth it due to the significantly lower cost of the cable car ticket.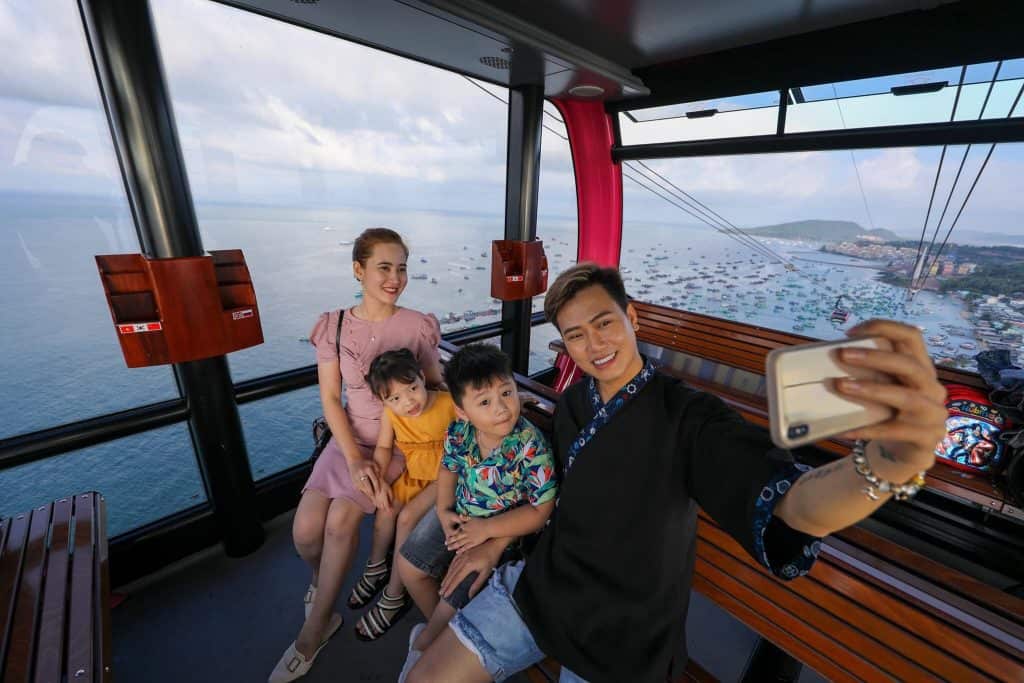 Hon Thom Cable Car can be accessed by taking the shuttle bus.
A complimentary shuttle bus is available at designated locations within Duong Dong Town during predetermined time intervals, transporting travelers to and from An Thoi Station.
Below is a detailed list of the pick-up locations and departure times for transfers to Sunworld Hon Thom Nature Park Phu Quoc.
>>>Read more : Everything about VINWONDERS PHU QUOC
Departing at 8h00, 10h00, and 13h30, the shuttle bus that goes from Duong Dong to An Thoi Cable Car Station has designated pick-up points such as Galaxy Hotel, Lucky Hotel, Long Beach Center, Sun Sea Hotel, Eden Resort, and Novotel Resort. The schedule for pick-up is as follows.
At 8h00, 10h00, and 13h30, Galaxy Hotel can be reached.
The hotel with the number 8h10 10h10 13h45 is fortunate.
The shopping center in Long Beach has three operating hours: 8h15, 10h15, and 13h45.
The rates for the Sun & Sea Hotel are 8h20, 10h20, and 13h50.
The times of 8h25, 10h25, and 13h55 are available at Eden Resort.
The Novotel Resort has hourly rates of 8h40, 10h40, and 14h10.
The stations at An Thoi are scheduled to depart at 9h05, 11h05, and 14h35.
Departing at 12h00, 15h00, and 18h00, the shuttle bus that runs from An Thoi Cable Car Station to Duong Dong Town will make stops along Tran Hung Dao Street upon request.
Traveling via a local bus
Opting for local bus No. 11 is a feasible and economical mode of transportation for those residing in Duong Dong Town or en route to An Thoi. This particular travel route presents a convenient and budget-friendly option to journey from Duong Dong to An Thoi.
Every 40 minutes, the local bus departs and runs from 0540 to 1720.
A person ought to pay only 30000 VND for a single journey ticket.
An Thoi Station is located within a 10-minute walking distance from An Thoi Post Office, where the bus usually makes a stop.
>>>Read more : Experience To Rent Motorbike On Phu Quoc Island
Go to local by motorbike rental
You can also hire a motorbike, This means that there are tons of motorbikes on the streets, and rules aren't much of a thing here. I suggest you to only rent a motorbike if you're experienced and know that you can handle it, otherwise you risk getting into an accident.
What is Thing to do Hon Thom Island
Hon Thom Island or Pineapple Island in Phu Quoc may leave you wondering about the sights it has to offer. Currently, there isn't much to see. However, the cable car ride is the main attraction that draws most visitors, and in my opinion, it's worth the cost alone.
Aquatopia water park
Hon Thom's primary draw is Aquatopia Water Park, which can be easily reached on foot from the cable car station. Launched in December 2019, Aquatopia Water Park is renowned for being the most up-to-date water park in Southeast Asia.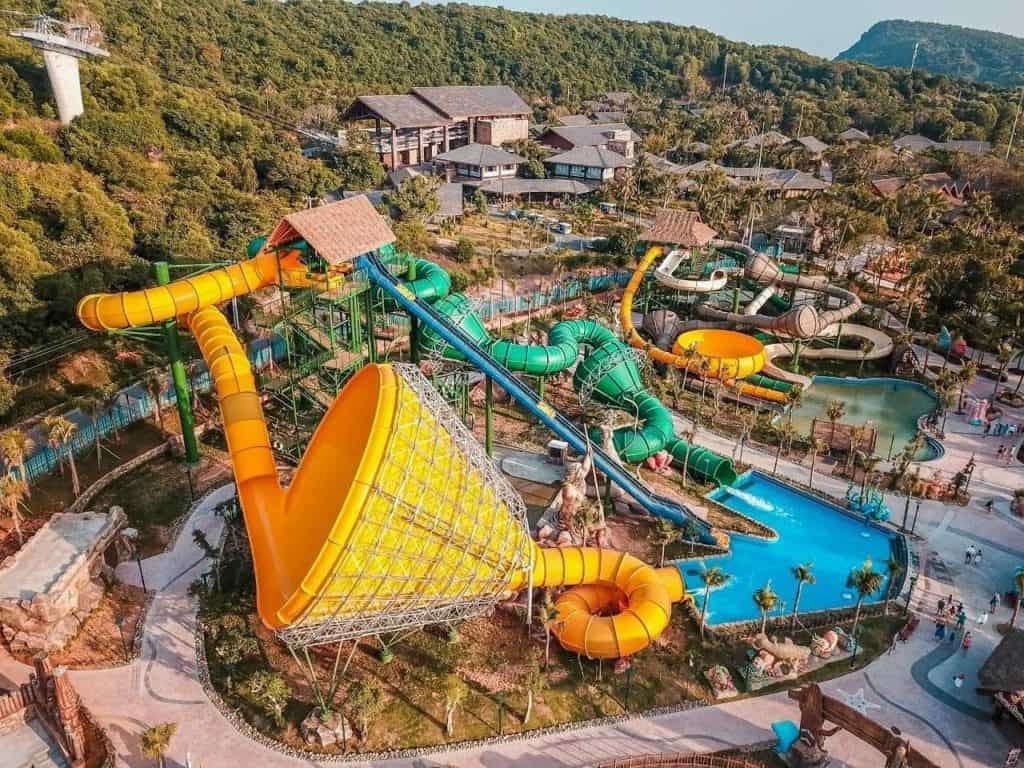 Aquatopia features over 20 thrilling attractions crafted by top global manufacturers and built to meet universal standards. The water park boasts a distinctive layout, with six distinct themed areas: Tropical Fruits, Marine Creatures, Wildlife, Marine Monsters, Aboriginal People, and Pirates. Numerous rides and games are making their Vietnam debut at Aquatopia.
With areas designed for both adults and children, the water park caters to all visitors. Those seeking thrills will be thrilled by the King and Queen Cobra helter-skelter rides, as well as other one-of-a-kind attractions like the Anaconda Sea Dragon and the Flow Rider.
>>>Read more : Speed Boat Rental in Phu Quoc – Cano for rent in Phu Quoc Island
Engaging in alternative pursuits, participating in distinct pastimes, and exploring varied interests are all examples of other activities that can enhance one's life.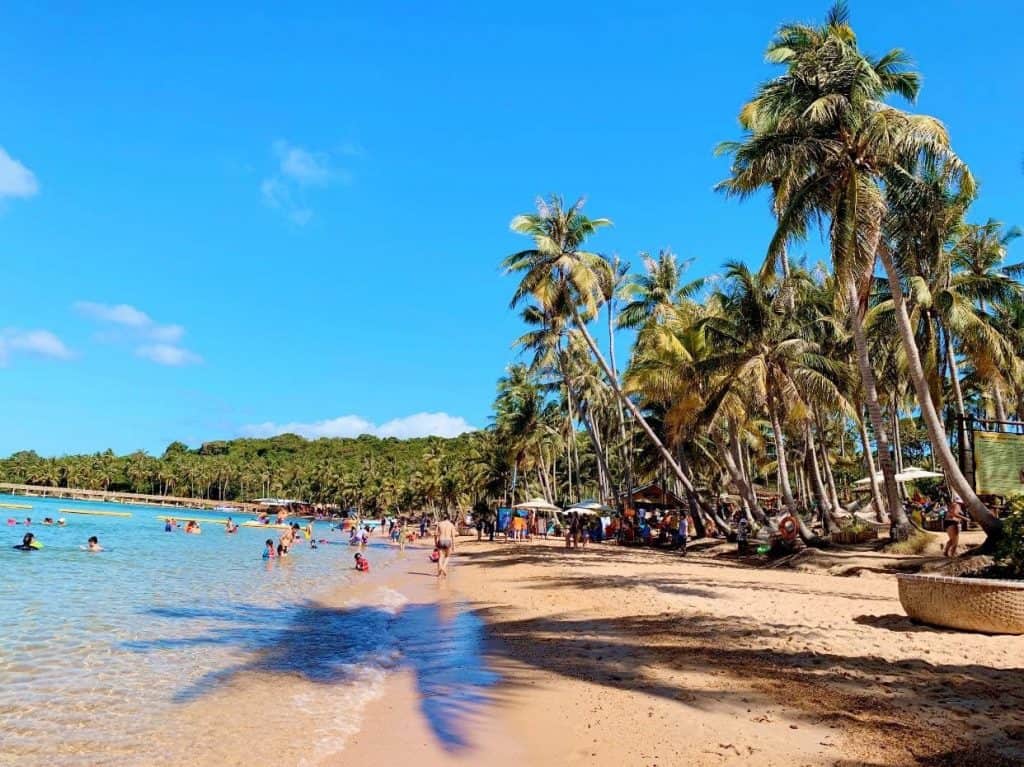 n addition to riding the cable car to the exquisite Hon Thom Island and engaging in enjoyable experiences at the Aquatopia Water Park, a complimentary shuttle buggy car is available for transportation to the breathtaking Sunworld Beach. This charming beach boasts coconut groves along the sandy shore, perfect for taking a dip in the ocean. At this location, visitors may also rent a kayak, banana boat, or Jet Ski for added excitement.
A bridge has recently been constructed for the purpose of observing the stunning sunset on Hon Thom. It is an ideal location for capturing incredible photographs. Feel free to come and take advantage of this opportunity.
You Have Little Time in Phu Quoc? Check This Tour
If you're only in Phu Quoc for a couple of days, you should try and make the most of your time by combining visit Hon Thom Cable car with some of the best attractions of the island.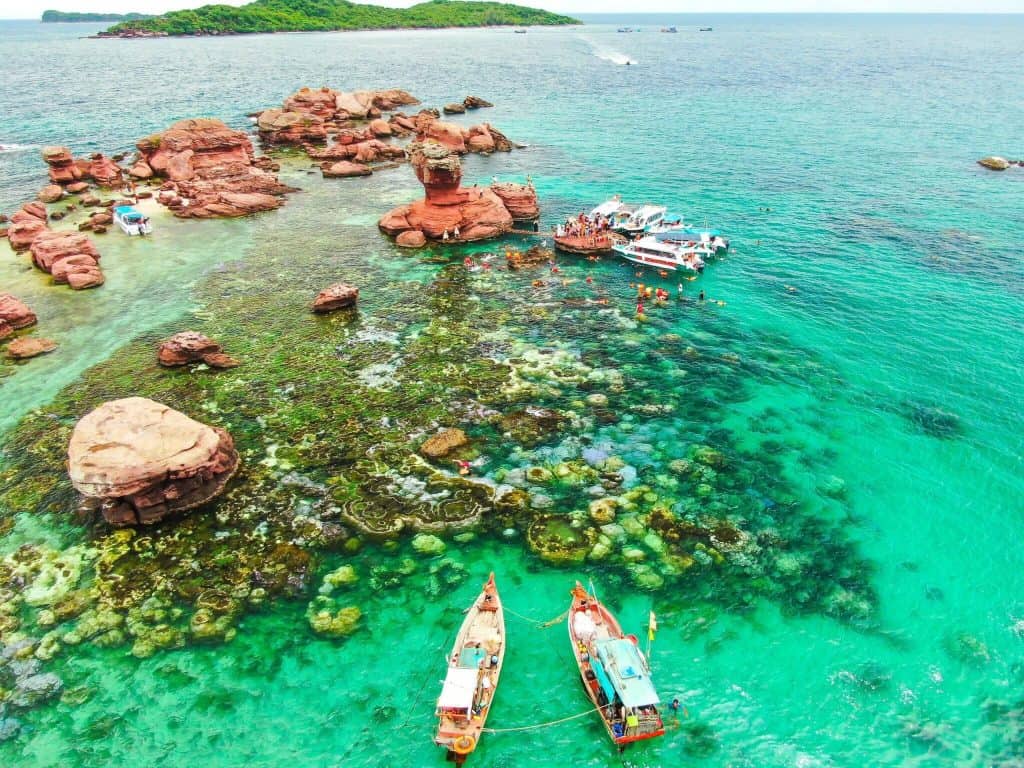 Discover 3 Islands & Hon Thom Cable Car Tour is a best tour in one day. You'll first go on the cable car ride to Hon Thom to enjoy the views, then you'll head via speed boat to Mong TayIsland, May Rut Island, and Dam Ngang Island. These islands are known for their colorful coral reefs and crystalline waters that create the perfect conditions for snorkeling. The tour also includes lunch and transfers. BOOK TOUR HERE
Read more phu quoc travel info :
Social Share