Phu Quoc is famous for its unrivaled beaches with the emerald blue colored sea water and credent shores. With the size of Phu Quoc, there are many beaches that suitable for swimming and other sea activities. However, due to the development of tourism, the number of hotels and resorts is increasing each day. Some of the beaches on Phu Quoc are not accessible for public visitors. Let's find out what are those to avoid any hassle when you travel to the island.
About Phu Quoc
Phu Quoc is located on the southern sea of Vietnam, in middle of Gulf of Thailand. The island is belonged to Kien Giang province. Phu Quoc island is called "pearl island" for its immense beauties. The total area of Phu Quoc was 589,23 km² reported in 2005, almost equal to island nation Singapore's area before the expansion.
Phu Quoc island is 120km away from Rach Gia city, 45km from Ha Tien town. There are 99 mountains and hills running from north to south on the main island. The An Thoi archipelago is separated with the island by a strait which is 60m deep. Phu Quoc island also has many beautiful long beach and especially a national park which covers an area of 314,2 km².
There are 2 towns and 8 communes on the islands. The towns are Duong Dong and An Thoi. The communes are Duong To, Cua Can, Ganh Dau, Cua Duong, Bai Thom, Hon Thom, Ham Ninh, Tho Chau.
When to visit
The climate is a typical tropical monsoon with 3 tourist seasons: high, shoulder and low seasons. The high season is during the period between November and March with average maximum temperature is around 31 C. The skies are sunny in this season, less clouds, low humidity. Shoulder season is from April to June, and late October. The temperature is a bit higher than high season with humidity is 80% or 85%. Low season is from July to September which is dominated by the monsoons. Or by other way to divide, Phu Quoc has two climate seasons: wet and dry. The wet season is from June to October; dry season is from November to April.
You can visit the island all year round but it's recommended to avoid the wet season from June to October if you don't want to be annoyed by the steady rains.
If you want to visit these beautiful beaches with your family and you need a car with or without driver, find out it here Cheap Phu Quoc Car Hire and Phu Quoc Car Rental Deals
Bai Dai (Long Beach)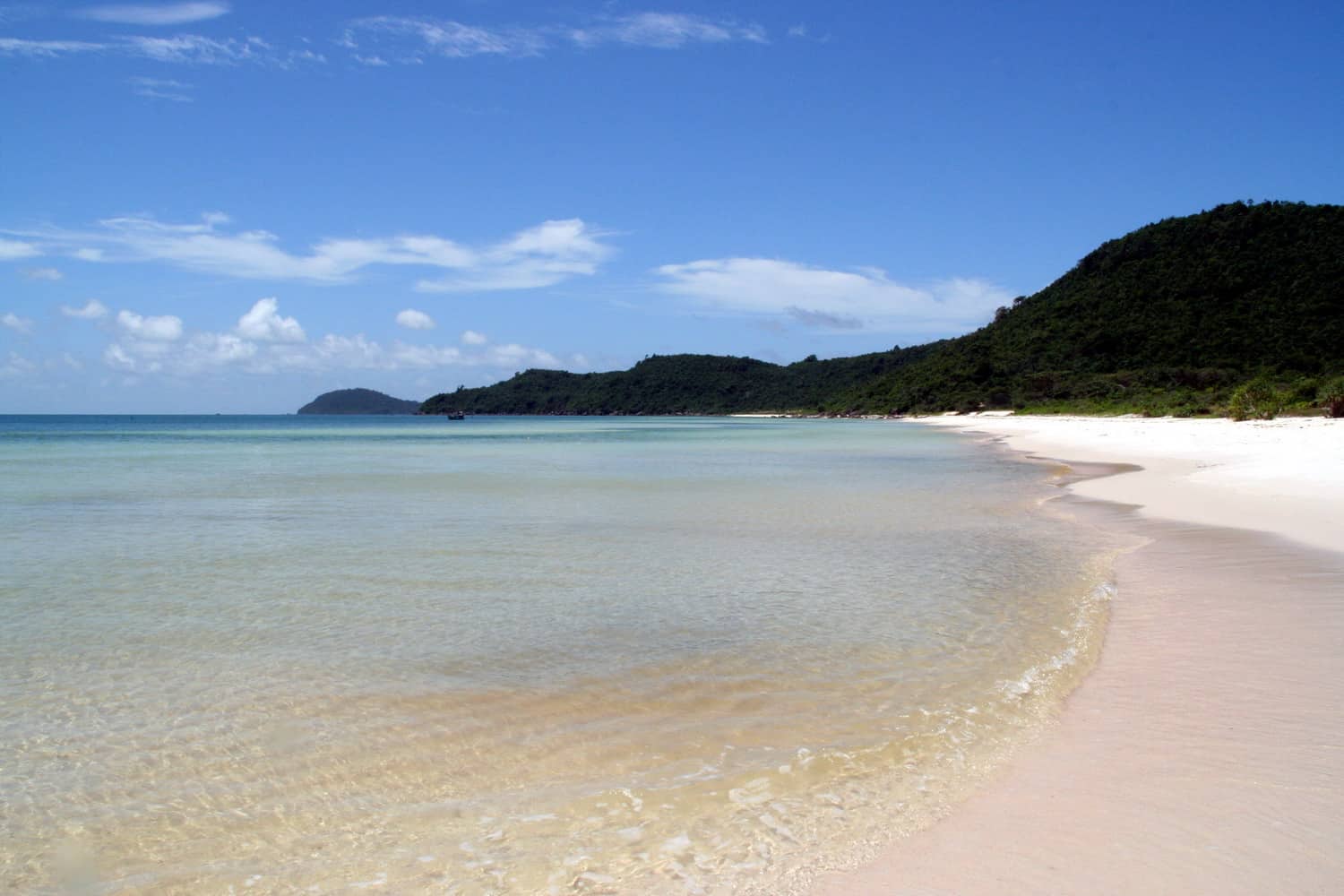 The beach, as its name hinted, stretches up to a length of 15 kilometer on the northwest side of the island. Long beach is famous for its long shore so you can feel like it's never really crowded as well as the pristine beauty and natural yellow sandbank. The sea water here is especially clean because boats don't often sail to this side of the island. Activities for visitors include swimming, diving or fishing. Located 800m away from the beach is Doi Moi island with remote and primitive beauties.
However, on the shore of Long Beach, a large number of facilities have occupied the access to the sea. They are mostly belonged to Vingroup Co. such as Vinpearl complexes including Vinpearl Park, Vinpearl Hotels, Casino Phu Quoc and more.
Only visitors of Vinpearl Land hotels and resorts have the access to the sea which means Long Beach is cleaner than other beaches. Room rates of Vinpearl start from 3 millions of VND.
Bai Khem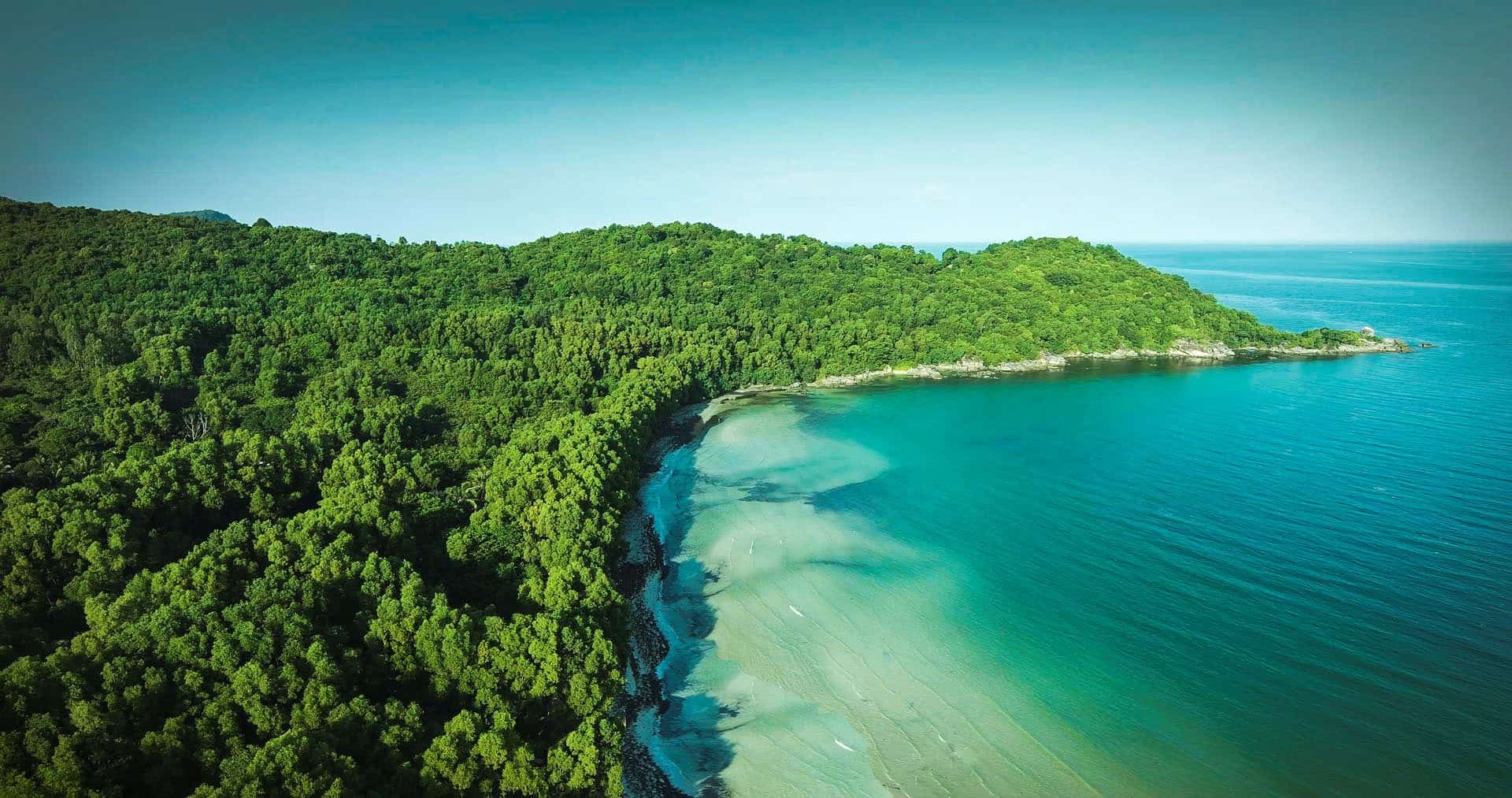 Located on the southeast of the island, Khem beach is one of the beaches public visitors can't visit freely. Just like its name – Khem or Kem means "ice cream". The reason for this name is because the beach's sandbank is so white just like ice cream. Khem beach is in the south of the island belonging to An Thoi commune, 25km away from Duong Dong commune center. The beach has a bow shape and lies very quietly between 2 green mountains.
Compared to Bai Dai, Bai Khem is much calmer and more suitable for swimming. There are also seafood restaurants which provide freshest and most diverse seafood dishes on Phu Quoc. Yet again, to enjoy all that, you'll have to be guest of Marriott Phu Quoc. Marriott's room rates are from 10 millions per night which is very high to most of the tourists coming to Phu Quoc
Bai Truong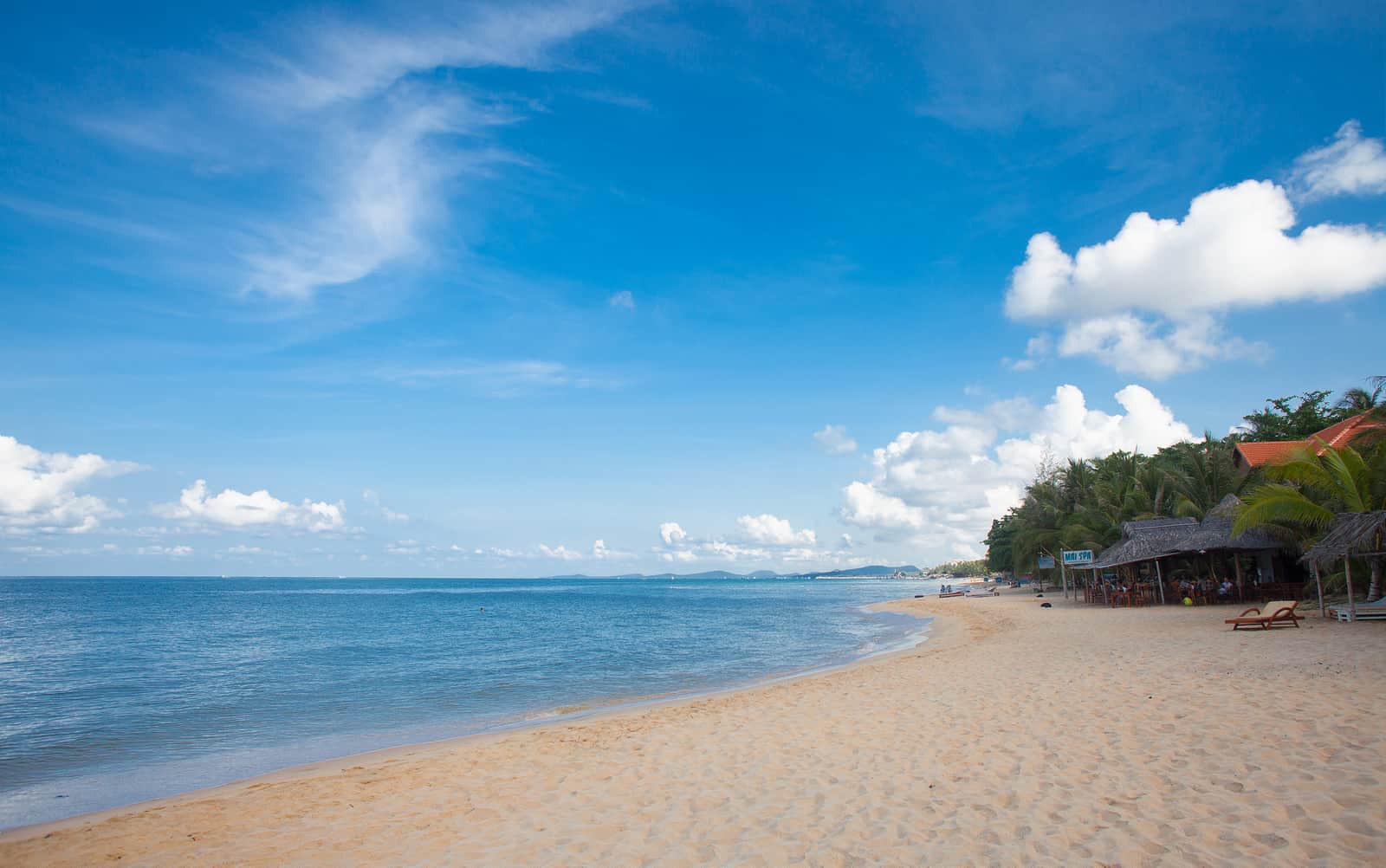 Bai Truong is even longer than Bai Dai with its length of 20 kilometers stretching from Dinh Cau to Khoe Tau Ru. The sand here has a nice light yellow color, the sea is blue and the waves are calm. Truong beach has several smaller beaches, lying next to each other, intertwined with the rock reefs, the forests and the fishing village. The natural beauty of Bai Truong is just so stunning which is also the reason why Bai Truong has the largest number of accommodation facilities occupied. There are almost twenty hotels and resorts on this single beach. The major ones are Eden Phu Quoc resort, Amarin Hotel, Nhat Lan resort…. So to enjoy the beauties of Truong beach, there is no other way than being guest of one of the resorts here. Room rates are widely varied.
Those beaches are indeed very beautiful and it's such a shame to not able to enjoy them freely. But cheer up, Phu Quoc still has many other beauties you can visit without booking a room like Sao Beach, Ong Lang Beach, Ganh Dau, Dinh Cau….
How many beaches in Phu Quoc you can't visit?
Update to:
August 14th, 2018
by .
Social Share