Phu Quoc (Phú Quốc ), also know under the name Pearl island, is bigest island of Vietnam and is a district of Kien Giang. Phu Quoc tourism is famous for beautiful sea, beaches, primary forests and ancient fishing villages. This island is an ideal destination of Vietnam. Following is my experiences about Phu Quoc travel.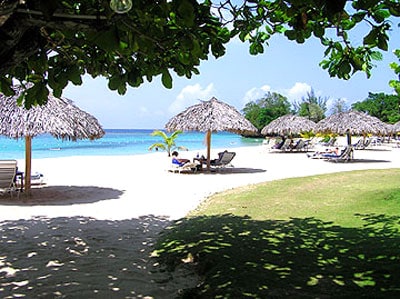 Parts of the article: 
What to play | How to get Phu Quoc | Hotels and motels | What to eat 
Attractions in Phu Quoc island
There are 3 main tourism areas in Phu Quoc: Northern island, Southern and Western. Usually, tourists come to Phu Quoc will spend 3 days to visit these areas.
Western island is place locating Duong Dong town, seat of island, where is the first place you see when coming to Phu Quoc.
The first site you should visit is Dinh Cau (Dinh Cậu ), that is very sacred temple with the locals.
Next is Ham Ninh fishing village. This is an ancient village with rustic and pristine cottages. You may also buy fresh seafoods and enjoy them on beach when ships of fishermens just docked.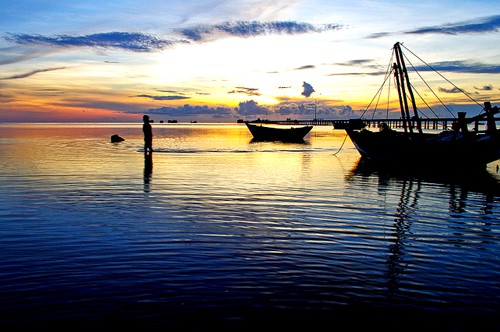 After visiting Ham Ninh village, if it's not yet dark, let's visit Cuoi Nguon museum, where has been kept the stories and legends about Phu Quoc island.
Evening, let's come to bustling Dinh Cau night market and eat famous specialties, goods of this island.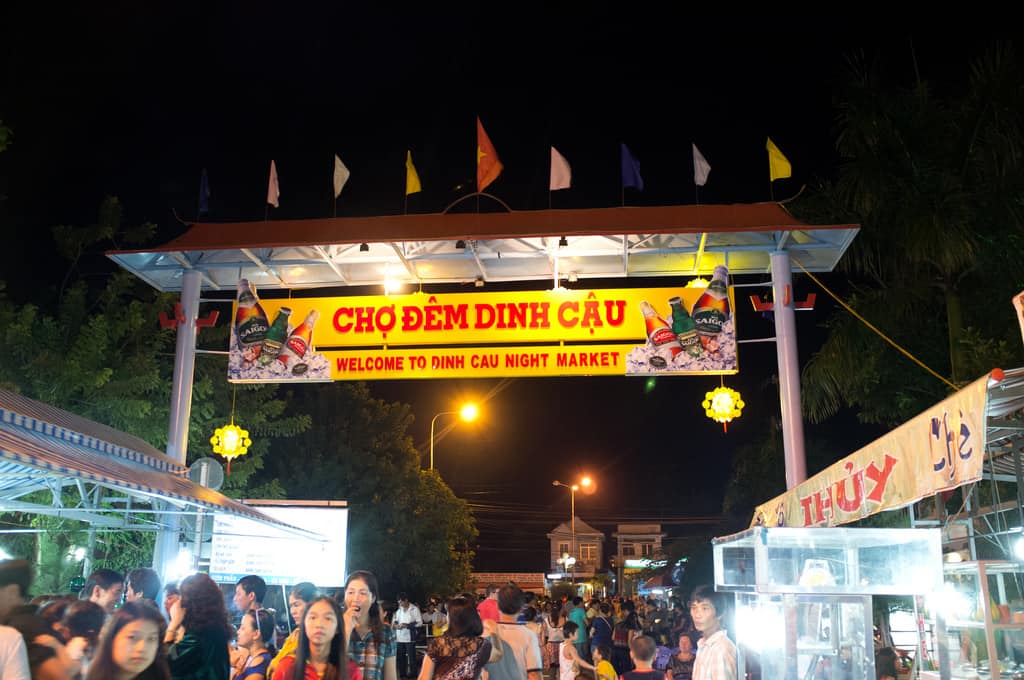 The famous attractions in Southern Island is Phu Quoc prison (Nhà tù Phú Quốc ). The prison was restored like a museum, with wondrous statues about scenes of torturing prisoners. I don't like this place, it scares me.
Tranh stream (Suối Tranh ) is derived from Ham Ninh mountain, has beautiful scene and cool air like Dalat city.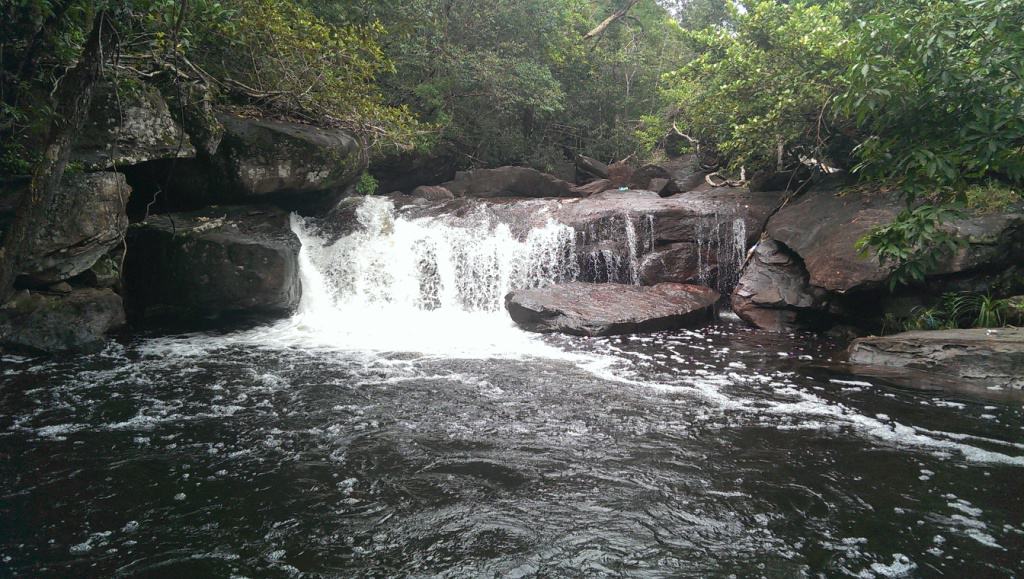 Khem beach (Bãi Khem ) is surrounded by mountains. This is a beautiful beach of Phu Quoc with bue sea, long sand and the pristine.
Next destinations in Southern are Kingdom of pepper (Vương Quốc hồ tiêu ) with immense green. Fish sauce barrel houses, where produce millions litters of fish sauce every year. I'm sure, you will be overwhelmed by massive barrel systems. Pearl farms, where has been made famous pearls of Phu Quoc.
Northern island own Phu Quoc National park (Vườn quốc gia Phú Quốc), where has the most beautiful beaches of the island, along with pristine landscape:
Ganh Dau beach (Gành Dầu ), Cua Can (Cửa Cạn, an estuary).
Vinpearl Land Phu Quoc
Bai Dai beach (Bãi Dài), the most beautiful beach of Phu Quoc.
Da Ngon (suối Đá Ngọn ), Da Ban stream (suối Đá Bàn), streams have clear water and many small waterfalls.
Finally, Nguyen Trung Truc temple, the end of my northern journey, is where the locals remember a great hero of country.
My advice: You should rent a motorbike to visit attractions in Phu Quoc. When travelling to Norhthern (by motor), quite far distance so you have to fuel fully if you don't want out of fuel halfway.
Renting motor, you may rent in your hotel

How to go to Phu Quoc island
There are 2 ways:
1. Plane. 
You may go from Ha Noi or Sai Gon (Ho Chi Minh city ).
– From Sai Gon to Phu Quoc. There are 6 – 10 trips every day. Fares are from $50 to $70.
– From Ha Noi, Fares are from $150 to $250, depend on times.
– From Can Thơ,Fares are from $50 to $80, depend on times.
Planes to Phu Quoc also have cheap fares, but you have to book few months.
If you booked hotels, let's tell them your plane trip, they will pick you up when arriving.
2. Road and waterway. 
This way is very complex.
– First, from Sai Gon, you will go to Rach Gia by car. There are many cars to Rach Gia, you may buy ticket in bus stations. If going in night, you will arrive at 5am. Then, you catch a taxi or motortaxi to go to dock.
-Or from Sai Gon, you will go toHa Tien by car.. There are many cars to Rach Gia, you may buy ticket in bus stations. If going in night, you will arrive at 8am.
Notes: You should remember license plate of your car, beacause in the trip, car will stop few times for resting, you have to remember the license plate to climb the right car.
Best taxis in Rach Gia:
Mai Linh: +848 3929 2929
Phuong Trang: +848 3833 3468
– Second. Usually, ships go to Phu Quoc start at 8am and 1pm. Running time from 2h30 to 3h, depend on weather.
Two ship firms:
– Superdong ship. Add: 14 – Tu Do street, near the dock. Phone: +8477.877.742 – +8477.877.741. Fare adult is $15.
– Shavanna ship. Add: 12 Tu Do street – Rach Gia city, near the dock. Phone: +84773.692.888. Fares: Adult: $15, child: $10.

Hotels and motels in Phu Quoc
1. Kim Thanh Nga hotel. Add: 7 region (khu phố 7) – block 20 – Duong Dong town. Prices from $18 to $25. Ok room, good hotelier. $7 for taxi from airport to the hotel.
2. Hong Tuyet hotel. Add: 14 – Bach Dang street – Duong Dong. Near the Duong Dong night market, and dock of night squid fishing.
3. Sea Breeze hotel is very clear, spacious, balcony face the sea. Prices from $18 to $43. The hotel is located on Tran Hung Dao street. Phone +8477 399 4920
4. Hiep Thoai hotel on Tran Hung Dao street, in center of the the town. Phone: +8477.398.1060. I don't know specific price, but it's affordable, you may call to ask the price.
5. Huong Giang bungalow hotel. I really like this hotel. It includes 16 bungalows, located in bustling area of Phu Quoc and only 5 walk minutes from beach. Prices from $25 to $30. Let's try this hotel, i think you will like it.
Some cheap motels in Phu Quoc
6. Thien Vy motel at 6 – Ly Thuong Kiet, near Phu Quoc ariport.
7. Oc Dao motel has very cheap price, just be $10. Phone +8498.2111.232. I don't remember address.
Specialties and restaurants in the island
Phu Quoc is famous for seafoods. With waters features, dishes of Phu Quoc cuisine are related to seafoods. Such as:
Types of raw: herring, snail, barracuda and few other fishes. Coi Bien Mai, muscle between 2 clamshells. Ham Ninh spidercrab is famous tasty in Phu Quoc. Sea urchin, abalone,…Phu Quoc fish sauce is also very famous.
You may enjoy these dishes at following restaurants:
In Duong Dong town (western island)
Breakfast restaurants: 
1. Le Giang restaurant is near the traffic circle of night market. This is familiar breakfast place of groups tourist.
2. Quoc Anh on 30/4 street, near Thang Long hotel. I don't try yet but some my friends said it's good.
3. Banh canh cha ca is a popular restaurant close to Thang Long hotel. If you want to watch the streets and enjoy taste of the local, let's come here.
4. Breakfast buffet at Huong Bien hotel. You may call the hotel to book breakfast.
Other restaurants: 
5. Vuon Tao (Vườn táo ), i like this restaurant most. They have raw herring, which is pride of Phu Quoc cuisine. Other restaurant also have this dish, but here is best. You should stay this restaurant in daytime, because it's quite distant center of the town so deserted in night.
6. Zen is a luxurious restaurant on 30/4 street. Cool campus and Professional staffs. This restaurant also serves breakfast.
7. Song Xanh restaurant has nice view, overlook Duong Dong river.
8. Trung Duong has popular prices.
9. Huong Bien restaurant is located on terrace of Huong Bien hotel, where has view overlook the sea, very impressive. This is ideal place for dinner.
10. Ngheu So Oc Hen and Nghe So restautants serve seafoods with popular prices.
11. Dinh Cau night market has many restaurants close together and prices are also popular. Let's enjoy Phu Quoc cuisine style very Phu Quoc.
12. Gia Tuong is only restaurant in Phu Quoc does not have seafoods, it serves specialties from Phu Quoc forest.
In southern
12. Sao beach club is new restaurant, nice view, well serves. You may rent hammock or chair to eat on the beach.
In Northern 
13. Mai Phuong restaurant on Vung Bau (Vũng Bầu ) beach. Mai Phuong also has over 10 bungalow.
14. Bien Hai Quan on Ganh Dau.
Social Share