12 Best beaches at Phu Quoc have gotten a lot of international press lately, but it's not nearly as much attention as they deserve. Isolated from the world by decades of war and political instability, Phu Quoc is only now slowly opening to outside visitors and investment. And what a treasure trove of secrets it is revealing!
Here is a summary of the most important beaches on the island.
Star Beach (Starfish Beach Phu Quoc)
This is the most beautiful beach on Phu Quoc in the eyes of many tourists. Picture a long stretch of pure white sand with likely not a single other soul around. The water is as transparent as glass. You could imagine you are at the ends of the Earth, and in a way you are. Bai Sao means "Star Beach" in Vietnamese, and the name is an apt one, this is the star beach of Phu Quoc Island!
Long Beach (Bãi Trường)
While probably not the best beach on Phu Quoc, Long Beach (otherwise known as Bai Truong) is the first one most tourists will see, and quite possibly the last. Bai Truong is the beach with the most hotels and resorts, and consequently the loudest and most hectic nightlife. Covering more than half of the west coast, this is also just about the only place in Vietnam you can see the sunset over the ocean.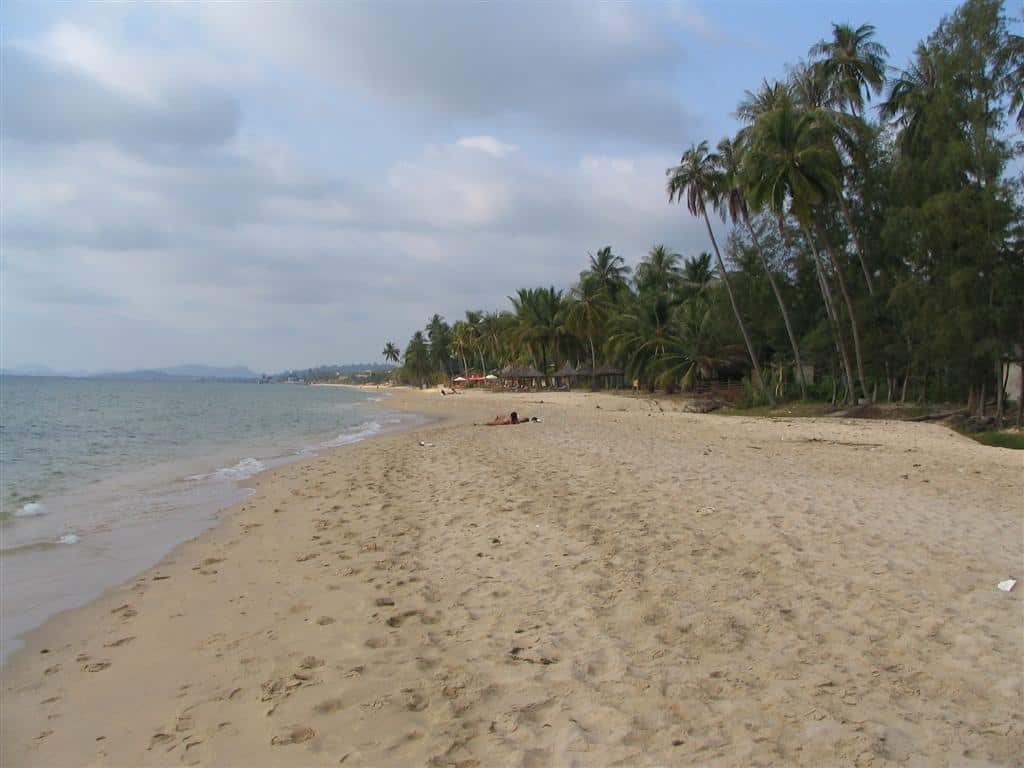 Kem Beach (Bãi Kem)
If Phu Quoc is the hottest untapped real estate in Vietnam, then Kem Beach must be the hottest untapped real estate on Phu Quoc. With a name that literally means "Cream Beach", Bai Kem is located on the southern part of Phu Quoc, just past Bai Sao. For years this beach was a military zone, off limits to tourists. The army used the beach for target practice.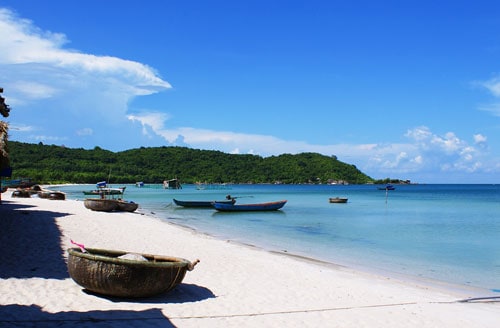 Ganh Dau Beach (Bãi Gành Dầu)
Now open to tourists by the military, Ganh Dau Beach is located on the north-west coast. You can see Cambodia if you look north over the waters, and this beach could well become Phu Quoc's official gateway to Cambodia if the authorities have their way. For the moment it is not quite as quiet as Bai Sao (Phu Quoc's star beach), but it is pretty secluded here. The seafood is fabulous and famous. For those interested in history, the beach harbours a shrine to a Vietnamese independence fighter.
Ham Ninh Beach (Bãi Hàm Ninh)
Just like their mainland counterparts, Phu Quoc beaches tend to be narrow affairs. At high tide the water stretches almost up to the tree-line. This is what happens at Ham Ninh Beach at high tide, the waves lap against the palm trees. At low tide, however, the water retreats far into the distance and the ocean floor lies exposed.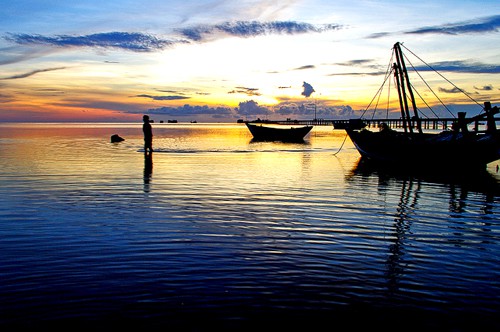 Vong Beach (Bãi Vòng)
Bai Vong Beach is on its way to becoming an alternative entrance/exit point to Phu Quoc, following the introduction of a ferry service to Ha Tien. Because there is a pier here and tourists arriving on a regular basis, the beach sometimes swarms with motorbike taxis and touts. But this is also a wild and beautiful beach, a place you can forget your cares.
Ong Lang Beach (Biển Ông Lang)
This is actually not one but two gorgeous white beaches (Ong Lang Beach and Xep Beach), situated on the west coast just north of Duong Dong and the airport. After Long Beach, this is one of the most developed beaches on Phu Quoc, but it is still in tip-top shape. Some of the resorts built here include the Ong Lang Resort and Spa, and the Chen La Resort and Spa (on Xep Beach). The Mango Bay Resort is another one of the many establishments here.
Duong Dong Beach (Biển Dương Đông)
For many visitors to Phu Quoc, Duong Dong is the first place they see the sea. On one side busy harbor, the other side white sand beach lined with coconut trees, this is one of Phu Quoc's most touristed beaches.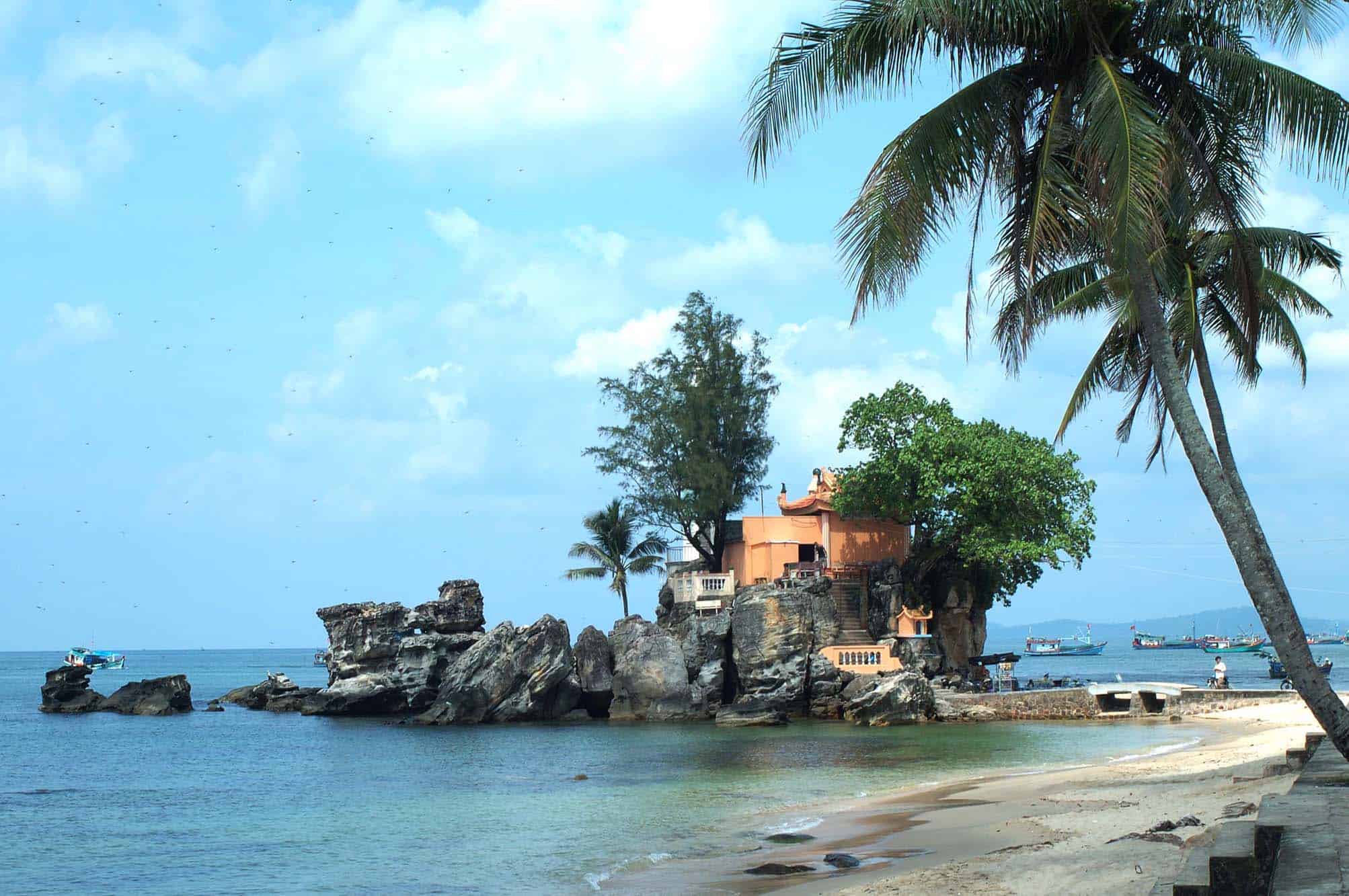 Cua Can Beach (Biển Cửa Cạn)
This could well be a view of paradise, but it is very fragile and difficult to access. Near the atmospheric old school fishing village of Cua Can stretches this sandbar, a crescent of beach lapped by ocean on two sides, highlighted against the rugged hills of Phu Quoc's central spine. Of all the beaches on Phu Quoc, this is the most mysterious.
Dai Beach (Bãi Dài)
Tucked away on the north-west coast of Phu Quoc, this could well be the loneliest beach in all of Vietnam. It could also be one of the best hidden beaches in the world. Due to its proximity to Cambodia, Bai Dai was long off-limits to tourists and foreigners. Restrictions have been lifted, but Bai Dai is still one very secluded beach with coral reefs and tropical fish. With natural beauty like this, it probably won't be so secluded for long.
Thom Beach (Bãi Thơm)
From restricted military base to a tourist mecca in the making, Bai Thom is one place you should see before it is too late. As recently as 2005, the Lonely Planet traveller's Bible warned of the difficulties obtaining access to Bai Thom Beach. Word was that the army opened the beach only on Sundays, and even then tourists had to produce their passports to gain entrance. Those days are over, but nonetheless Bai Thom remains well off the beaten tourist track.
An Thoi and vicinity (An Thới)
Once home to a notorious prison camp, An Thoi is now a beautiful playground for Vietnamese and foreign tourists. A fishing and shipping hub on the southern tip of Phu Quoc, An Thoi town-ship moonlights as the gateway to an archipelago of 15 islands, many of them uninhabited, all of them pristine. If you are coming to Phu Quoc by boat and island hopping is your thing, consider making An Thoi your base. Otherwise it is a gruelling 24km from Duong Dong (on dirt road), or 29km on the inland sealed road.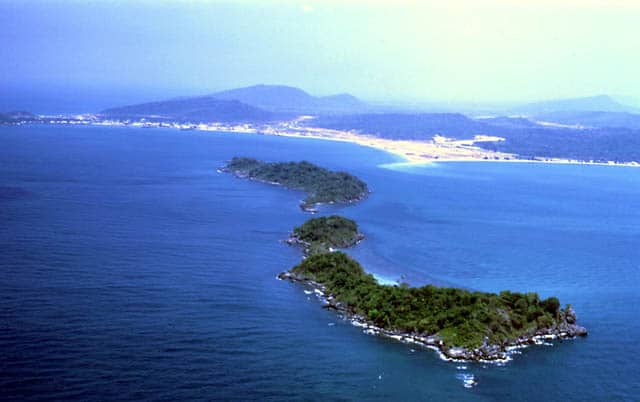 Other beaches
As well as the main beaches, there are also plenty of minor beaches ringing this island. Some of them are so unknown they might not even be on the map.
12 Best Beaches on Phu Quoc Island Viet Nam
Update to:
August 16th, 2018
by .
Social Share