Phu Quoc – Vietnam, Pearl Island
Phu Quoc is known as the pearl island, it wins many tourists' favours to be called "the heaven on earth". the island is the largest island in Vietnam, formed in Kien Giang Province, located in the Southwest of the country, being about 120km from Rach Gia
Phu Quoc island has cool weather all the year with an average temperature of around 28 degrees Celsius, a tropical monsoon climate  which is divided into two distinct seasons: the dry season and the rainy season. Gifted the beautiful weather, calm sea, and a few rainy days,… Phu Quoc is the ideal destination for those who are planing to go travel somewhere fantasic.
Phu Quoc Landscapes
1. Dinh Cau is located on a cliff in a turtle shape facing the sea, 200m from Duong Dong bustling town. Dinh Cau is the holy place to the people on the island where is the top place to be discovered.
Eastern Island
2. Ham Ninh fishing village is an ancient village nestled at the foot of Ham Ninh towering mountains, facing the immense sea. Come to Ham Ninh you will experience life intacting pristine rustic cottages with bamboo walls, and warm hearted people here.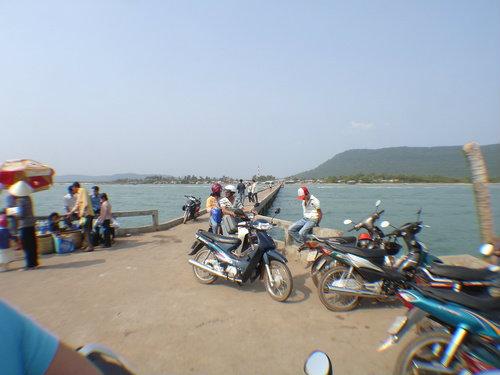 3. Painting stream is a famous tourist resort in Phu Quoc closed to Duong Dong town center 9km. Visitors can enjoy the picturesque charming natural or immerse in fresh and cool water, and even surrounded by green trees and fragrant grass… Perhaps this is the reson why the stream is known as Painting
4. Phu Quoc fish sauce craft village where produce excellent fish sauce, which are popular in Vietnam and around the world. Coming to the village, you will be overwhelmed by the massive system of barrel house producing millions of liters of fish sauce every year.
Northern island
5. Phu Quoc ridgeback dog camp is a place fostering the extremely precious and rare ridgeback dog which are endemic to Phu Quoc. The dog was dubbed the "West Fire wolf" or "dog king". Ridgebacks are famous for muscular body with bouncing breasts, and slim waist. Especially by owning the webbed feet like ducks, they have very good swimming ability.
6. Phu Quoc Pepper Garden, tourist can easily find out and visit the garden on the way to the north of the island, it is the largest pepper garden in the Mekong River delta. Pepper planted in Phu Quoc especially red pepper is extremely spicy and strong flavor than pepper grown in other countries, so this place is also known as the "kingdom of pepper."
7. Phu Quoc National Park is one of the few National Parks of South remains intact primeval jungle, where even converging with the natural beauty of forests, ocean, streams, waterfalls mountains, and hills. Phu Quoc Nation Park has proved itself to be the good destination, an extremely interesting places that tourists should not miss when coming to the island.
8. Ganh Dau is a very attractive tourist destination of Phu Quoc by natural characteristic of pristine mountains and forests, with gentle patting green waves, seen the bottom through pure water, the beach curving crescent moon shape with fine sand stretched for kilometers creating a peaceful scene, dispelling tiredness of the long journey of tourists.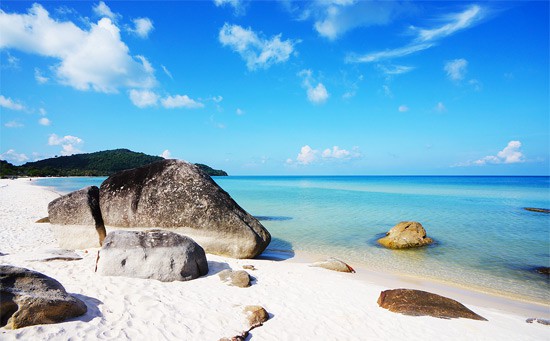 Southern island
9. Exhibition areas and pearl farming on Phu Quoc. With the favorable conditions bestowed, Phu Quoc is the birthplace of the best pearls in the world. Visitors will have been stunned by the beautiful iridescent pearls from the essence of the sea and Phu Quoc.
10. Phu Quoc prison (or Coconut Tree prision) is a part of Vietnam history, a relic exhibiting many objects showing about Vietnamese prisoners suffering from French and American rule that you should not visit if you are timid. This prison is the place to detain Vietnamese revolutionary fighters. It has ever detained 40,000 soldiers. The prision used barbaric medieval forms of torture for important Vietnamese political prisoners such as: perforated teeth, tiger cages, crucified, baked, or buried alive …
11. Bai Sao beach (Star beach) in An Thoi town is the most beautiful beach in Phu Quoc Island, was considered one of the beautiful and pristine beaches in the world with fresh cool air from the sea and the white smooth as cream sandy beach, gently curved shape moon over 7km stretch what indisputably make the beach becoming the best beach all over the island.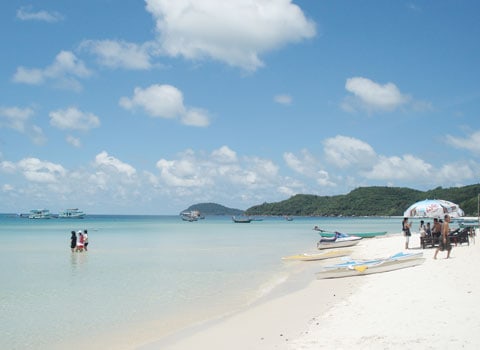 Phu Quoc Specialties
1. Herring salad is the cuisine pride of Phu Quoc people, a very famous Phu Quoc's traditional food coming along with the special and common fish- herring. the dish served with Phu Quoc homemade rice paper and fish sauce creates the heaven taste for those who once try the herring salad.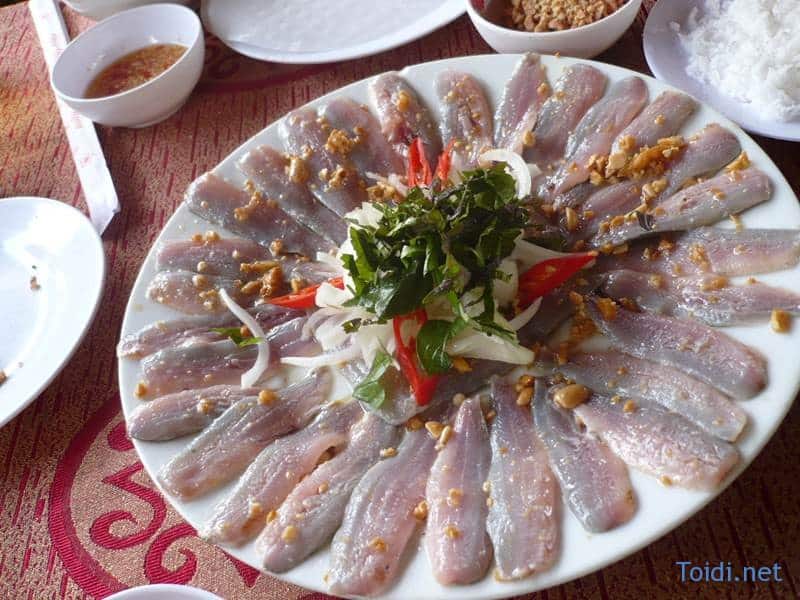 2. Nhum (sea-urchin) is tasty and healthy. It is not only a original dish of  Phu Quoc, but also virility and kidney tonic, … very good for men.
3. Baked egg squid is idyllic and rustic dish of Phu Quoc people.
4. Sim wine, a specialty of Phu Quoc made from ripe red sim fruit only growing in Phu Quoc, is popular with a lot of the tourists who have ever visisted Phu Quoc Island as it provides the very fantactic taste which is pretty similar to cocktails.
5. Crab pudding, a very hot dish of the pearl island, it is worth for those who are gourmet to try.
6. Ham Ninh swimming crab, famous taste of Ham Ninh fishing village.
7. Coi Bien Mai salt and chill grilled: Coi Bien mai is the muscle layer connecting two pieces of Bien mai oyster shell, the cream of the species.
8. Phu Quoc fish sauce is a delicious renowned specialty of this beautiful island.
Phu Quoc – Pearl island of Vietnam. Attractions and specialties
Update to:
May 22nd, 2019
by .
Social Share