Tour 1: Boat Tour – East Island

Three or four days on Phu Quoc are the ideal time to discover this beautiful island. However, if you're busy and don't have that much time for a thorough trip, 2 days and 1 night on the weekend would still be a decent experience if you plan your trip on advance. It's clear that you can't visit and enjoy every place and everything on the island with that short period of time. So with our recommended itineraries, you can enjoy parts of Phu Quoc that piques your interest most and most suitable for you.
Day 1: Phu Quoc Prison – Pearl Farm – Fish Sauce Factory – Boat Tour
The boat tour shouldn't take longer than half of a day so you use the morning or the afternoon to visit some interesting places which are near to Duong Dong town.
Phu Quoc Prison: this site might not be everyone's cup of tea but it has an enormous significance in Vietnamese history. It's an evidence of war crimes and human rights committed by foreign invaders to Vietnamese prisoners. A very important historical site to visit and learn.
Phu quoc Pearl Farm: For years, Phu Quoc has been famous for their quality natural pearls. In this facility, the locals grow oysters and harvest the pearls directly from living oysters. Buying pearls at the pearl farm would be much more assuring otherwise, they would make wonderful gifts to bring back home.
Or you can walk around Duong Dong town – the central town of Phu Quoc. A street food tour would also be a wonderful choice for those who don't want to stray too far the very first day. And you won't be disappointed with Phu Quoc cuisine!
A boat tour would definitely last for at least 3 hours. We recommend you take book for the afternoon. There are two ways to do this: rent a boat yourself or book a half-day boat tour from agencies. Boat tour's itinerary often features the islands on An Thoi Archipelago with activities such as swimming, snorkeling, fishing…. The islands have some stunning beaches, decent coral reefs and primeval forests, making them one of the best places in Phu Quoc to enjoy the nature. When you book boat tour from agencies, they guarantee the equipment and the instructor to ensure your safety.
Day 2: Discover the East Island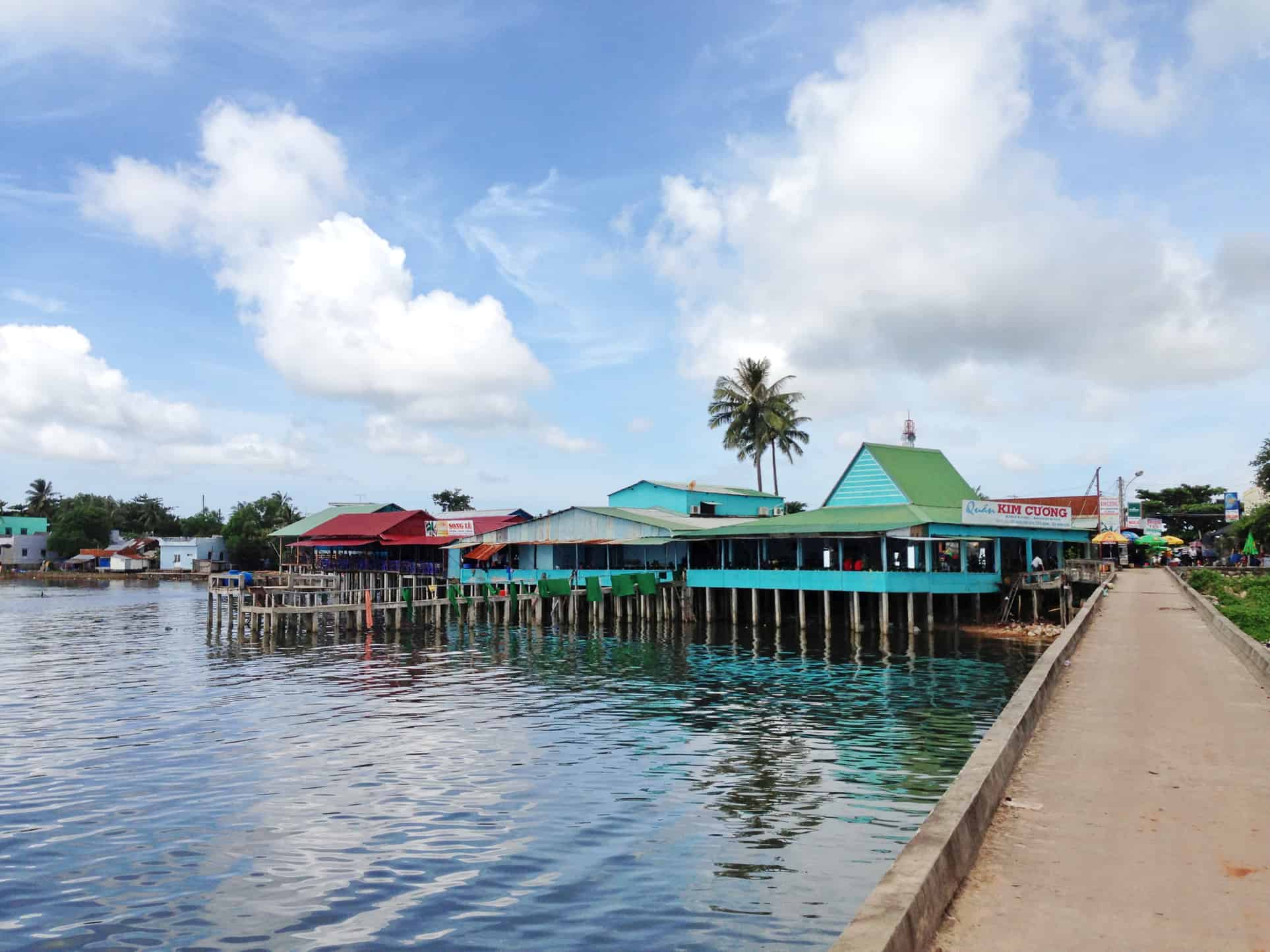 Tranh Stream: Tranh stream's is harmonized with the nature with less presented human's interference. One of the things that makes Tranh stream a great sightseeing spot is the quiet atmosphere here. If you visit in the stream in summer, you'll be amazed by scene of the sunlight shinning through the trees' canopies, reflected back by the water. The downstream is just suitable for camping, while at the upstream you can enjoy the flows, small a pond and a waterfall surrounded by rocks.
Ham Ninh Fishing Village: would be a peaceful and insightful experience. The natural landscape at Ham Ninh is such feast to the eye with green mountains and bluish sea. One thing that you should definitely try in Ham Ninh it's the seafood. Seafood here is not only abundant and fresh but also cheap.
Sim Wine Workshop: you'll find a new taste which you've probably never tasted before. The liquor is made from a local wild tree's fruits which have a sweet and bitter taste. Sim wine is known for its healthy benefits, just perfect to be brought home as a gift.
Pepper Farm: The pepper products in Phu Quoc are known for their strong flavor and fragrance which can make the dishes taste a lot better. In recent years, quality products of Phu Quoc pepper can sell at price 200,000VND for one kilogram. The pepper farms are open for tourism purposes and you can buy home some as gifts.
You have a lot of time in the afternoon to check-out and prepare for your flight back, ending the tour without feeling too rushed. Phu Quoc Green Travel also offers customizing 2 days and 1 night tour. If you want advice for your upcoming trip to Phu Quoc island, get in touch now!
Itineraries for 2 days 1 night on Phu Quoc – Pt.1
Update to:
September 22nd, 2018
by .
Social Share