Phu Quoc is a tropical island located in southwestern Vietnam. It is like a paradise resort for all visitors from youth to senior citizens. The island is blessed with natural beauty, pure and charming. If this is the first time you fly to Phu Quoc Vietnam from Sweden I guess visit Phu Quoc Seawalker centre must be on your list. Here are some tips to help you easy join Phu Quoc Seawalker Tour – walking under the beautiful sea.
1. How To Get To Phu Quoc Seawalker Centre From Hotel ?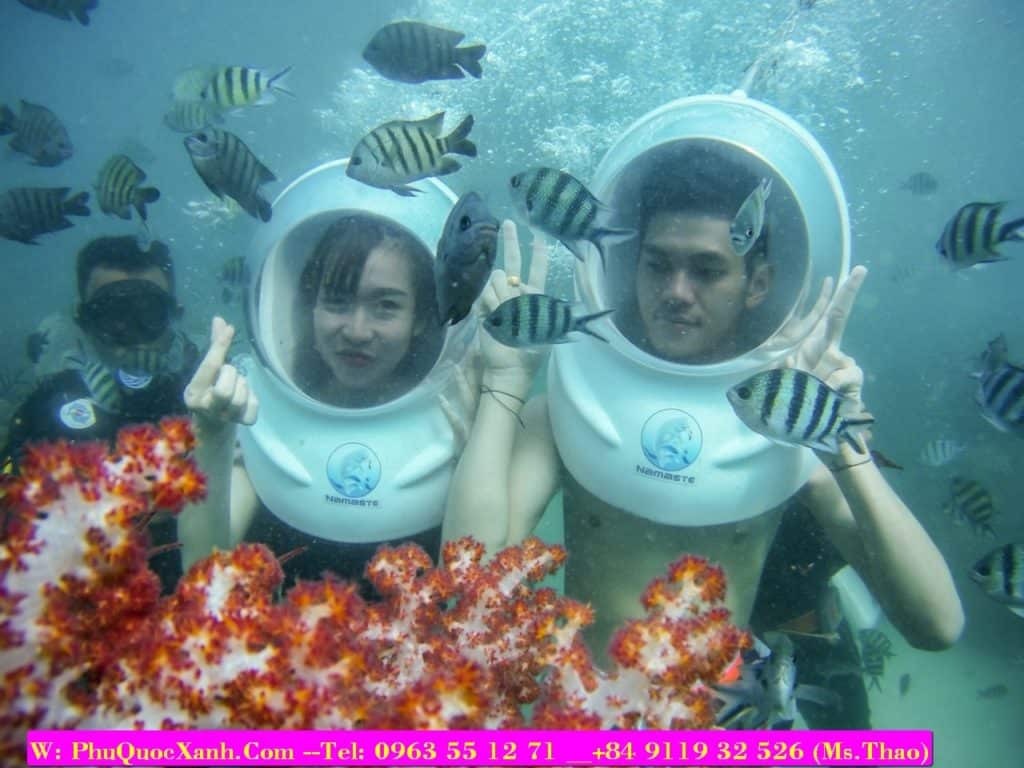 To join Phu Quoc Seawalker Tour tourists will need to go to An Thoi port. It takes about 20-25 minutes from Duong Dong town- the capital of Phu Quoc island to An Thoi port by car. Then we will need to take 10-15 minutes speedboat from the port to Phu Quoc SeaWalker centre.
The Seawalker tour has a very flexible time. The best time to join in Seawalker tour is from 9am-4pm when the sea water is warmest.
2. What To Do In The Seawalker Centre?
At Phu Quoc Seawalker centre, tourists will discover the most interesting activity on Phu Quoc island- Walk under the ocean floor. The Phu Quoc Seawalker tour is about 20 minutes. The Seawalker tour guide will always go beside you for guiding and guarantee your safety. Under the water, you will discover the colourful fishes and beautiful coral reef. You will explore the feeling of walking on the sand under the ocean. At the end of the tour, the tour guide will help you to walk up the stair and get out of the water.
If you love snorkelling, its time for you. Let's float on the water surface and discover.You can bring your own snorkelling mask or rent it 50 000vnd about $2 at the Seawalker centre. The Coral reef here is the best place for snorkelling.
There is plenty of bathroom with clean water at Seawalker centre. They will provide you with a towel for dry your body. There is also a restaurant at Seawalker centre. They only serve a preorder meal. If you would like to have lunch, please to inform us when you book our tour.
Contact us today to book Phu Quoc Seawalker tour or to get the best consultant.
Remember we have many day tours available, you can find them here on the Phu Quoc 1 day tour page
Visit Phu Quoc Seawalker Centre
Update to:
May 11th, 2018
by .
Social Share