You want to know all the must-visit places in Phu Quoc island – the largest, most beautiful, modern island of Vietnam? This article will show you why the 15 sites below can't be missed in your plan. Let's take a look.
The flavorful pepper farm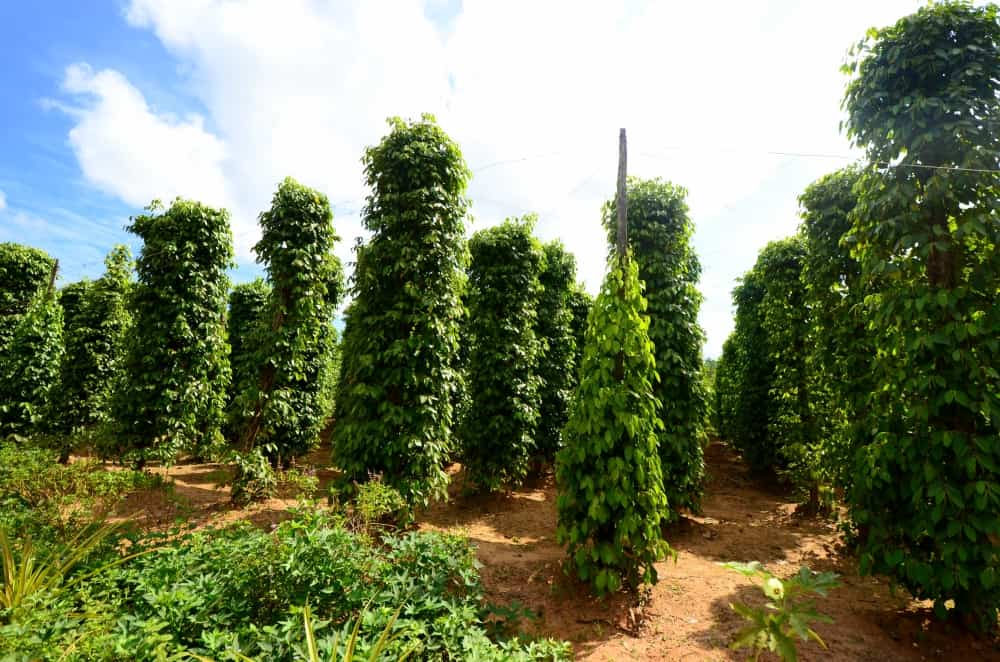 When you take a step into Phu Quoc's pepper farm, you'll be surrounded by cluster after cluster of red pepper fruits. These fruits will be harvested and dried under the sunlight for at least 10 days until they turned into darker color. The areas that originally grow pepper trees on Phu Quoc island were villages like Ganh Gio, Suoi Da, Suoi May, Khu Tuong. They've successfully built and made the brand "Phu Quoc pepper" national-wide famous. The pepper products in Phu Quoc are known for their strong flavor and fragrance which can make the dishes taste a lot better. In recent years, quality products of Phu Quoc pepper can sell at price 200,000VND for one kilogram. The pepper farms are open for tourism purposes and you can buy home some as gifts.
Healthy cooking class at organic farm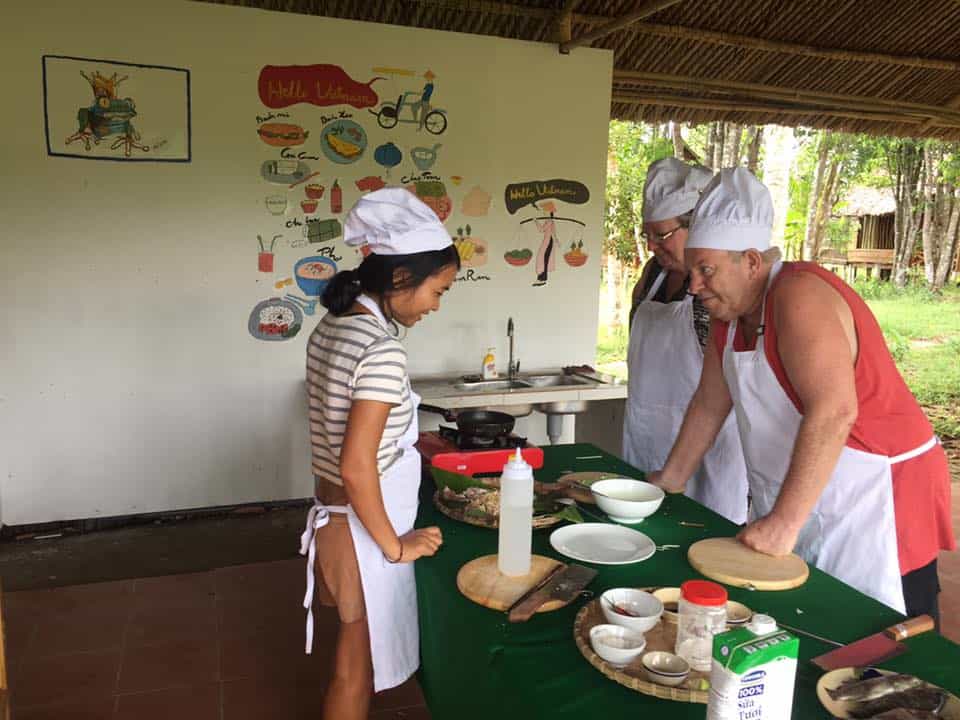 You might be surprise to know that there's even a cooking class on an island on the ocean. But it's not only there is one, the cooking class even is located inside a permaculture-based organic farm which focuses on producing natural and healthy products without using chemicals or synthesized fertilizers.
Join the cooking class, you have chance to enjoy more than just cooking. You can shop the ingredients at a local wet market which is an Asian typical market. There is even a farm tour with beer tasting at farm-owned brewery, and if requested, a quick detour to the pepper farm nearby is also doable. The menu for the class includes four dishes that are the essences of Vietnamese cuisine – spring rolls fresh and fried, caramelized fish/pork with fish sauce, sizzling pancake.
Cost for one person's standard class is at $35USD, VIP class offers price of $55USD.
Magnificent Dinh Cau Temple
Legend has it that Dinh Cau is the symbol of Phu Quoc island for its masterly-designed architecture and location but also for its sacredness. The temple is located on a huge rock reef on the beach of Dinh Cau beach. The scene is even more magnificent in sunset when golden warm light from the sun changing whole sea and sky yellowish mixed with purplish color. Climb 29 stone steps to the temple, you will take in a vast scene of the sea surrounding you – a pure beauty of nature. Or you can take a seat at a nearby café to enjoy the view of the town. Do not forget to bring camera with you.
Insightful Coi Nguon Museum
Coi nguon Museum is a private museum operating in accordance with the Cultural Heritage Law and the organizational and operational regulations of private-owned museums from Ministry of Culture and Information.
Within the museum, there are more than 3000 antiques including pottery, stone, ceramics, copper, petrified woods which have been evaluated and recognized by UNESCO. All the artifacts are dated back as far as 15th century of which 2645 antiques are pottery and ceramics from Ly, Tran, Le, Nguyen dynasties have been recognized by UNESCO. There are also 300 rare and valuable documents written in Mandarins, Vietnamese, French, English and more than 100 folklore artworks are archived and displayed here. Coi Nguon Museum would make an interesting rain shelter for you in Phu Quoc.
Historical Phu Quoc Prison
Located at Cay Dua (Coconut Tree) hamlet, An Thoi district, south Phu Quoc, Coconut Tree Prison was a central penal institution of South Vietnam and Americans during the Vietnam War. The prison was actually constructed by the French to confine Vietnamese activists. In 1967, the puppet government of South Vietnam had rebuilt and changed the prison into Phu Quoc prison which covers a total area of 400 hectares. There was time the number of prisoners here reached 32,000 inmates or even 40,000 inmates if added the political prisoners.
Twelve sections were made for confinement, guarded by 3 battalions during most of the war. Section 13 and 14 were built in late 1972, each confined 3000 prisoners. Male and female inmates were confined in separation. Each area was divided into four different sub-areas "A", "B", "C" and "D". This prison is living evidence for war crimes in Vietnam. There are exhibits presented in the prison for visitors to learn more about the war of which are some torture tools that were used in the past on prisoners. And the most inhumane place must be "Catso Tiger cage", a name we can't be missed out when we mention Phu Quoc prison. You don't need to buy entrance tickets at Phu Quoc prison, but use should hire a tour guide and give tips to them.
Read more:
Top 15 sites you shouldn't miss in Phu Quoc – Part 1
Update to:
October 16th, 2020
by .
Social Share